Lemon Bars with Shortbread Crust
4 min read
[ad_1]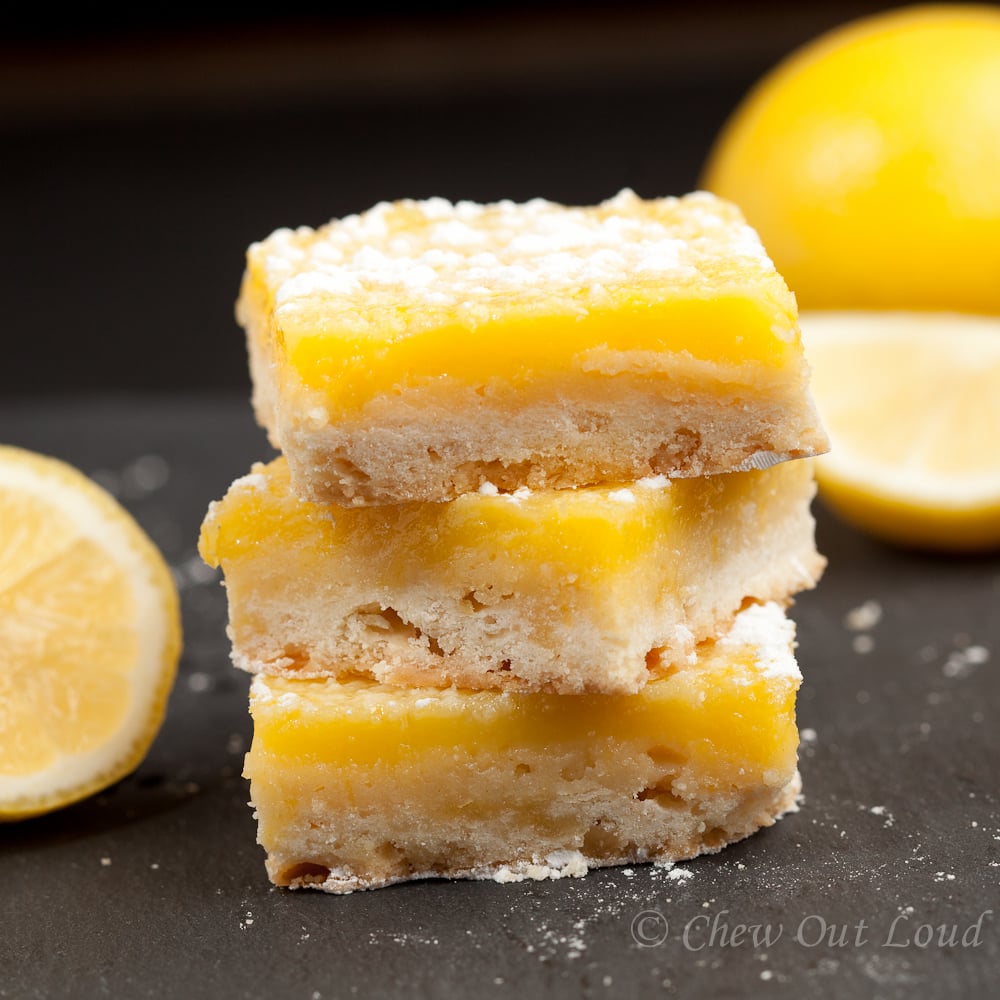 Lemon Bars with Shortbread Crust
It's a paradox that lemons, like most citrus fruits, peak during winter throughout much of the country, because sunshine-bright lemons just scream spring and summer.  Besides their happy and fresh look, you'll want to grab plenty of fresh lemons for these lemon bars with shortbread crust. These lemon bars are the season's mascot.
Why You'll Love these lemon bars:
This lemon bar recipe contains the perfect balance of sweetness to tanginess ratio.
You'll get to use up 3 large lemons plus zest. This is especially awesome if you're a lucky lemon tree owner.
The smooth lemon filling rests atop a mouthwatering buttery shortbread crust that tastes of perfection.
These homemade lemon bars are heads and shoulders above any store bought lemon bars.
Homemade lemon bars are super budget friendly (you won't even want coffee shop lemon bars after you try these.)
These lemon bars keep well for up to a week in the fridge.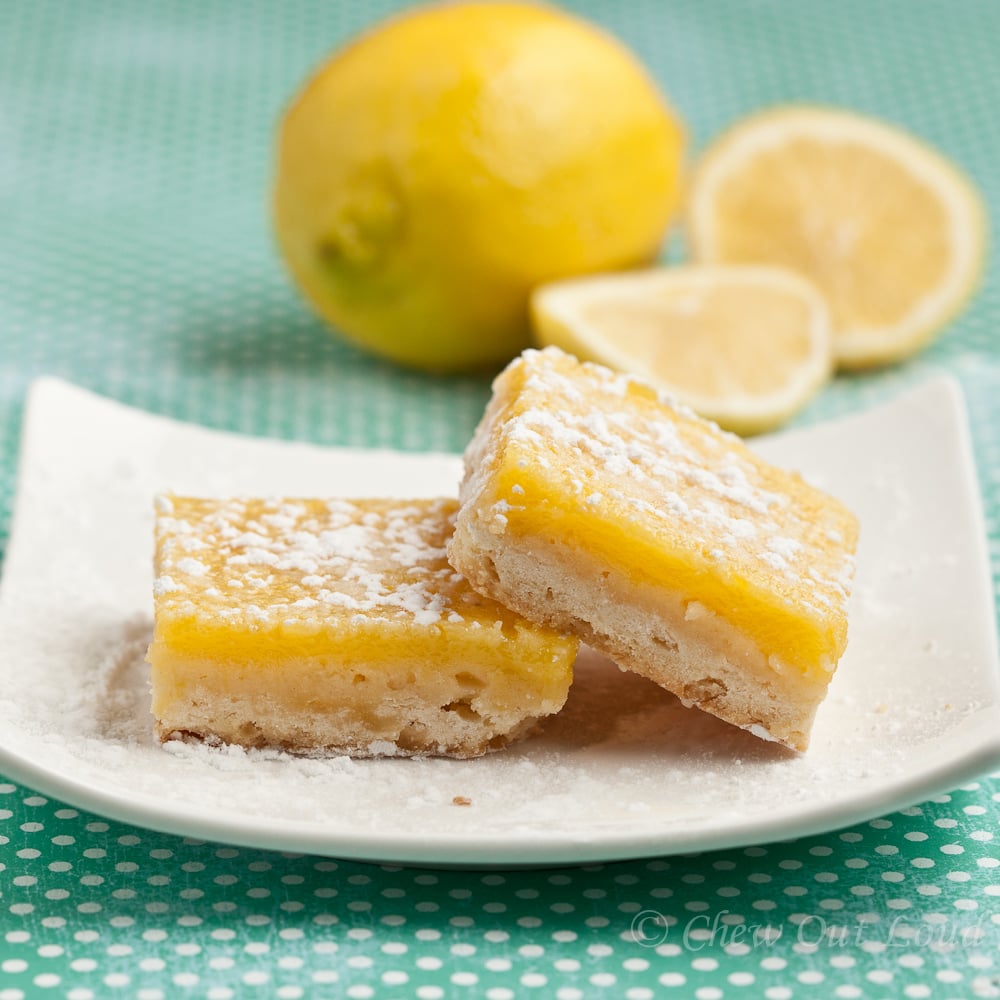 Key Tips for making the best lemon bars
For the shortbread crust, be sure your butter is chilled to begin with.
Freeze butter just long enough so that it can be easily grated using large-hole grater. This makes it so much easier to form the crust.
Allow the finished lemon bars to fully chill before slicing in. The filling will set completely while it chills.
Lining baking dish with foil that extends beyond the dish will allow for easy removal of the entire dessert onto a cutting board.
Leftover lemon bars keep well for up to a week, covered and chilled in the fridge.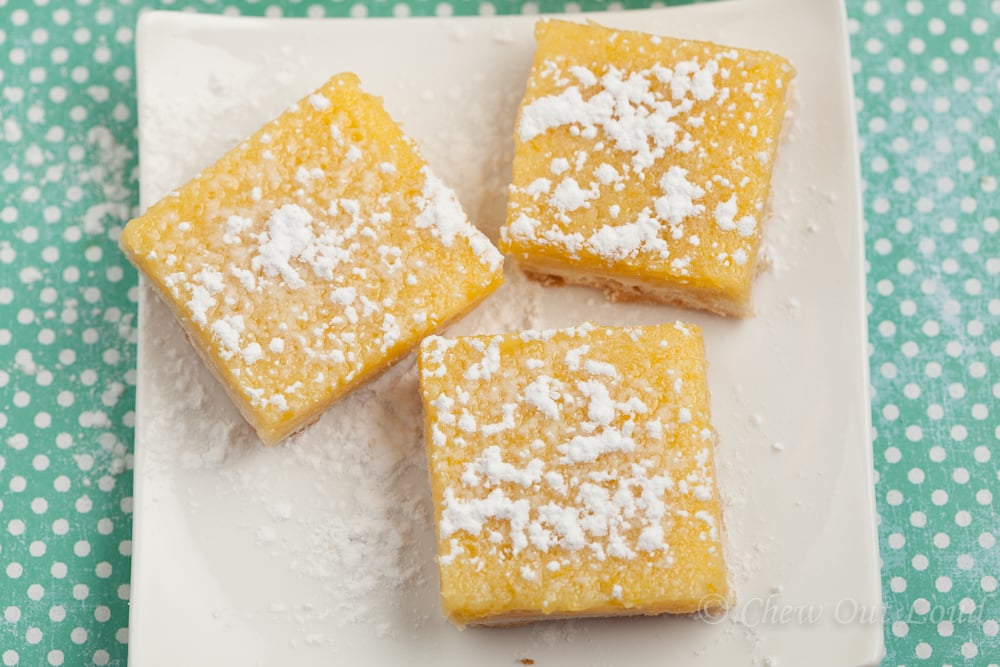 Lemon Bars Recipe
Commonly Asked questions
How do you know when lemon bars are done baking?
The center of filling should be somewhat firm yet still a bit "gooey" to the touch. When pan is jiggled, the filling shouldn't shift at all. Once bars are fully cool and chilled in the fridge, they will set nicely.
How can you make sure lemon bars are set?
Be sure to fully bake the crust until golden brown. When in doubt, it's better to slightly overbake the crust than underbake it, to ensure that the filling on top fully bakes through.
Do I need to line my baking pan with parchment paper?
We highly recommend lining pan with either parchment or heavy duty foil, with enough excess hanging over the edges, for easy removal of the entire dessert onto the cutting board, once chilled.
How long can lemon bars stay fresh?
You can make lemon bars several days in advance. Keep them covered and chilled. Leftover bars can keep for up to a week.
---
Other Treats to Bake and EAt:
---
watch this recipe in action:
---
Print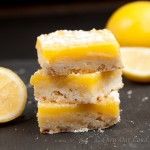 Lemon Bars with Shortbread Crust
These are the most luscious, lemony lemon bars with shortbread crust. Melt in your mouth, buttery shortbread is layered with a fresh, full-bodied lemon custard baked on top.
Prep Time:

30 min

Cook Time:

40 min

Total Time:

1 hour 10 minutes
For the Crust:
1 3/4

cups

all purpose flour

2/3

cup

powdered sugar

1/4

cup

cornstarch

1/4 tsp

salt

12

TB regular butter, chilled and cut into

1

inch pieces
For the Filling:
4

large eggs, lightly beaten

1

cup

white sugar

3

TB all purpose flour
Juice of

3

large lemons (

2/3 cup

)
Zest of 2 lemons

1/3

cup

whole milk

1/8 tsp

table salt
For the Crust:  Preheat oven to 350F with oven rack at middle position.  Press a long piece of foil into 13×9 baking dish, so that the ends hang over the dish (helps with removal of bars.)  Grease the foil and set aside.
Blend: Blend flour, powdered sugar, cornstarch, and salt in food processor until fully combined, about 15 seconds. Add butter and process to blend, about 10 seconds. Then pulse until the mixture looks pale yellow, resembling a coarse meal. (If you're doing it by hand, mix the dry ingredients together in large bowl.
Freeze: Freeze butter and grate it on large holes of a grater, into the bowl and toss pieces to coat with flour mixture.  Rub the bits with fingers until flour turns pale yellow and resembles coarse meal.)  Sprinkle crust mixture into prepared pan and firmly press into an even layer over bottom of pan.  Place pan in freezer for 10 minutes.  Then bake about 20 minutes or until golden brown.
For the Filling:  Whisk eggs, sugar, and flour in large bowl.  Stir in lemon zest, lemon juice, milk, and salt to incorporate.
Adjust temperature: Reduce oven temp to 325F. Stir filling mixture well, and pour into warm crust.  Bake until filling feels firm upon a very light touch, 20-25 minutes.  Transfer to wire rack and cool completely to room temp.
Chill: Tightly cover and  chill in fridge before serving. Once chilled, remove entire dessert with foil sling, and cut into squares. Dust with powdered sugar upon serving, if desired. Bars will keep well in fridge, covered.
Notes
If you enjoyed this recipe, please come back and give it a rating♡
Nutrition
Serving Size:

1

Calories:

184

Sugar:

14.2 g

Sodium:

60.4 mg

Fat:

1.2 g

Carbohydrates:

38.4 g

Fiber:

0.8 g

Protein:

4.5 g

Cholesterol:

37.3 mg
Keywords: lemon bars, lemon bars recipe
[ad_2]

Source link