The Vegan Fish Tacos I Eat For Lunch At Least Once a Week
3 min read
[ad_1]
By request! Vegan fish tacos. Or maybe it needs to be vegan "fish" tacos. Either way, here's why I'm sharing the details today. A few weeks back I published the coleslaw recipe I've been making on repeat all year. In the post I mention one of my favorite ways to enjoy it – piled into these tacos. Specifics were requested, and here we are! The recipe is a bit of a weirdo, and came together one day when I was pulling things from the fridge – slaw, tofu, tortillas. This was a meal without much of a plan, and it has since become one of my favorite ten-minute lunches. Quick-marinated slabs of tofu are coated in a dusting of cornstarch and cooked until you get a golden crust. Tacos are assembled with a good slather of avocado, the tofu, tempeh bacon (if you want to double down), and finished after browning in a pan with a couple generous scoops of this spicy sesame coleslaw.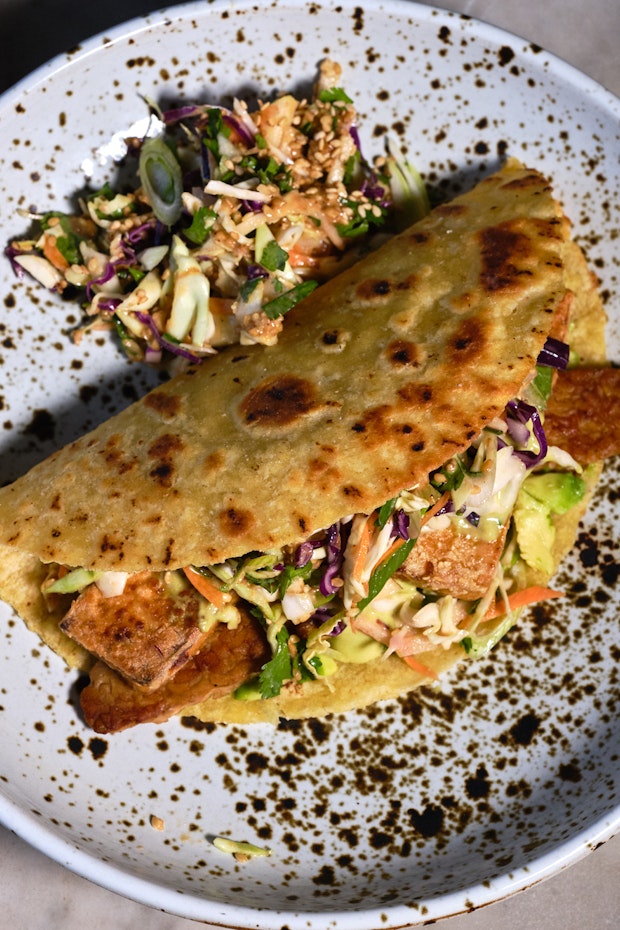 Each component can be prepped ahead of time, and will last for days in your refrigerator. When it's taco time – cook up the tofu and/tempeh, assemble your taco, and finish with the slaw. I'll also add another photo down below. I sometimes make a bowl-situation with the components of the vegan "fish" tacos swapping out tortillas for soba noodles.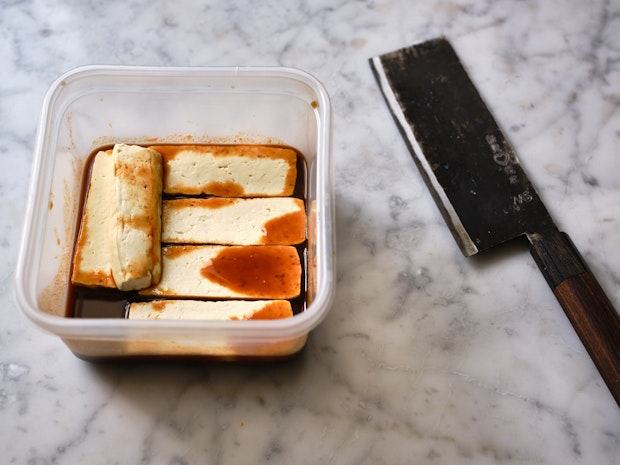 Tofu: Puffy vs. Not
Tofu steps in for the fish component in these tacos. I use a strong, simple marinade plus a quick pan-fry. I should mention, on occasion, I'll sometimes make a more puffy, beer-battered version of these – where you coat the tofu with a much thicker batter and then fry it in more oil than you see in todays recipe. But, the process is messier, a lot more decadent, and for an average weekday lunch or dinner, I prefer this version. I suspect you might too? It's lighter and you get a lot of interesting flavors from the spicy sesame coleslaw dressing as well as the tofu marinade.
Can I Bake the Tofu?
Yes! If your oven is already going, and you don't want to cook the tofu in a pan, bake it. Rub the pan with a bit of olive oil, skip the cornstarch step, and bake at 350F until the tofu is golden and bouncy in texture. Flip once along the way. You won't get as much crispiness, but it's still all good.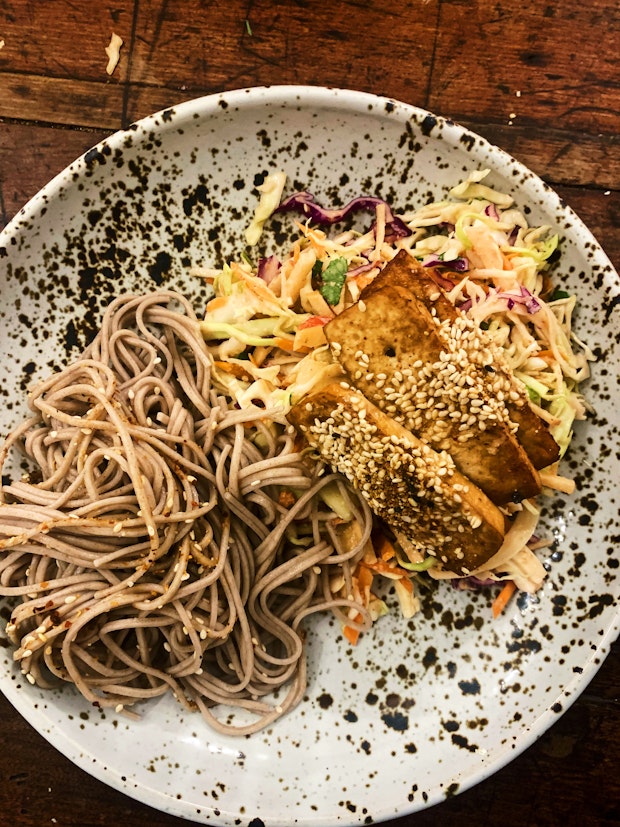 Vegan "Fish" Tacos: Make Ahead Components
The three main components for these tacos are the tofu, the coleslaw, and the tortillas. Tempeh bacon is optional, but I actually really love it in this recipe. It lends a nice smoky depth to the whole taco. Wayne often buys it, and the brand is Lightlife. If you don't have it, or can't get it, just leave it out – still so good! I make these often without the tempeh, but love them extra extra much when I have it.
Coleslaw

: this is the coleslaw I'm talking about. It's the only one I use for these tacos. The spicy sesame dressing is the magic that pulls everything together. Don't skimp, pile on the slaw. The spicy sesame creaminess from the slaw dressing, the sweetness of the apple, and crunchiness of the cabbage is what makes these tacos special. Slaw can be used up to 4 or 5 days after making. So, slaw made on Sunday can be used throughout the week.

Tofu:

You can whip up the marinade and add the tofu up to 3-4 days in advance. Or, start some on Sunday, and use throughout the week.
I hope you try these and enjoy them as much as I do! let me know if you play around with any variations.
[ad_2]
Source link