Roasted Rosemary Garlic Sweet Potatoes
2 min read
Roasted Rosemary Garlic Sweet Potatoes get wonderfully crispy on the outside and have just a hint of cinnamon.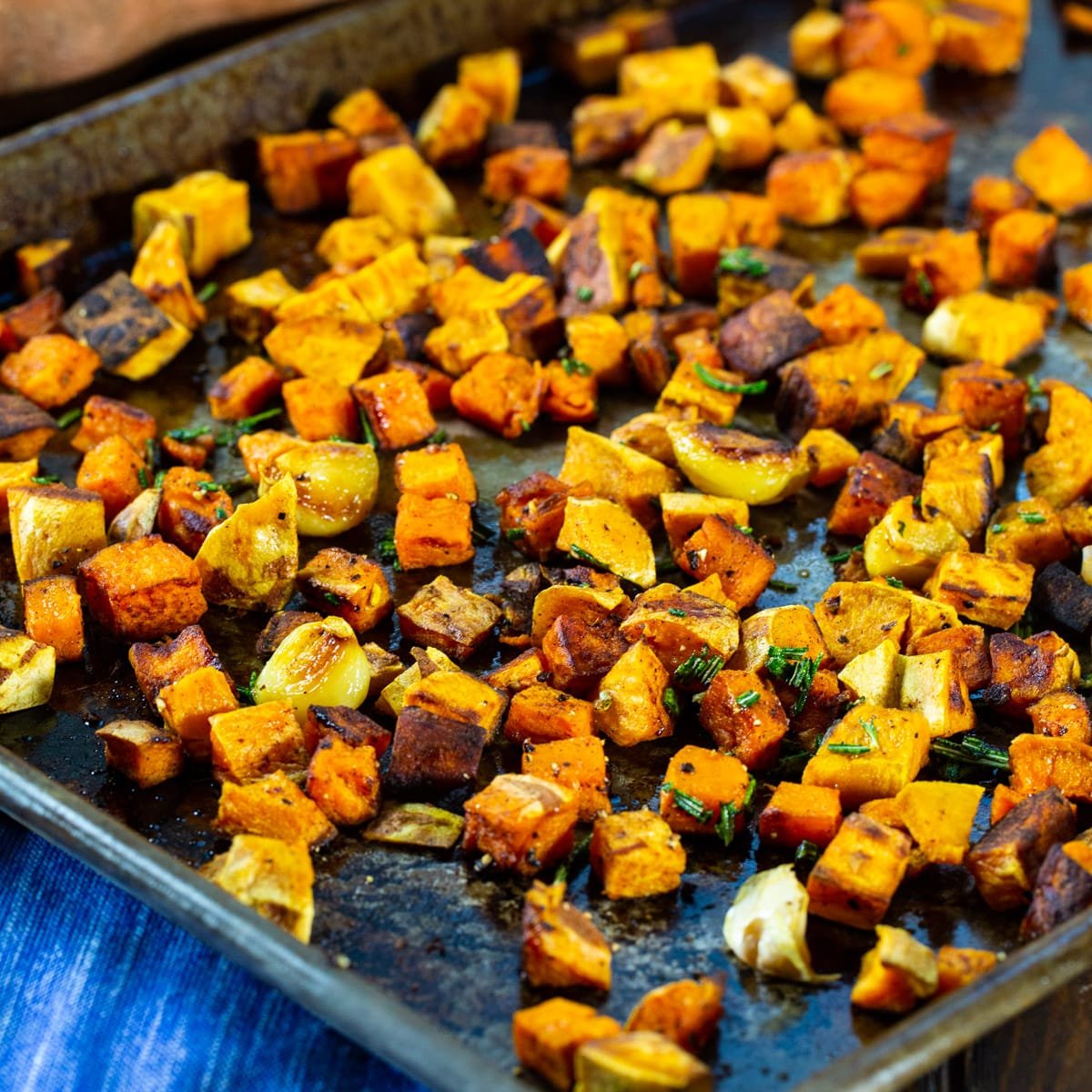 How To Serve
Makes a great fall side dish, but is delicious anytime of year. I especially love roasted sweet potatoes with either beef or pork but they also goes well with chicken.
Rosemary and Sweet Potato
The flavor of rosemary and sweet potatoes go so well together. Not everybody loves the flavor of fresh rosemary. It has a very strong flavor and can be overpowering. After roasting it in the oven, the flavor of the rosemary is a little tempered. Note: Thyme can easily be substituted for rosemary.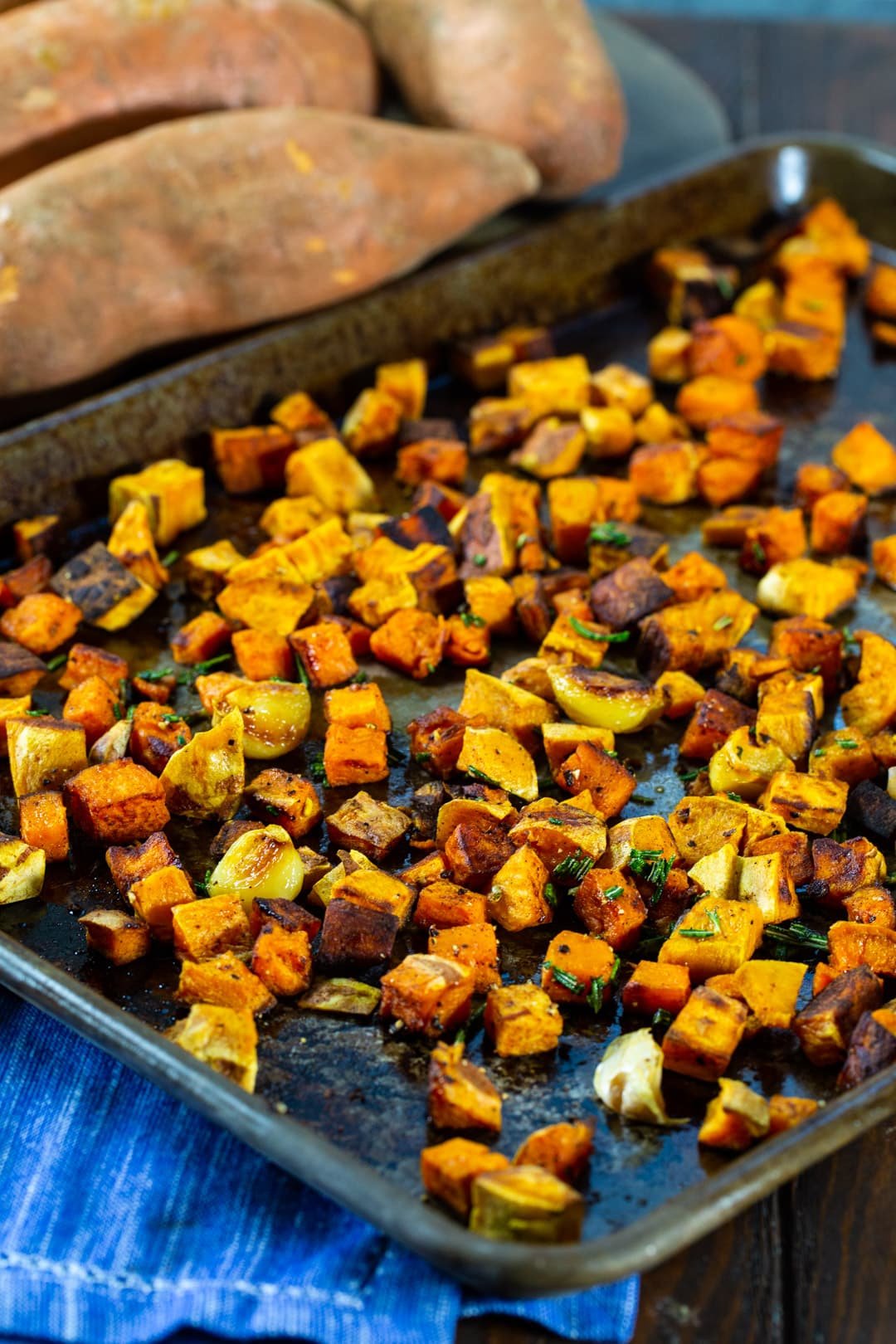 Why Use Whole Garlic Cloves
I like to use whole garlic cloves instead of minced garlic because minced garlic burns very easily in a hot oven and burned garlic doesn't taste great. If you want to use minced garlic, try adding it maybe the last 10 minutes of roasting. Once roasted the whole garlic cloves can be chopped up or you can eat them whole.
Cut into Small Dice
I like to cut the sweet potatoes into a fairly small dice. They cook faster and have a crispier exterior in relation to the interior.
Use A Large Baking Sheet
You want to use a large baking sheet and really spread the sweet potatoes out so they get crispy. If they are too close, they will steam.
Roasted Rosemary Garlic Sweet Potatoes Recipe Tip
Add a pinch or two of cayenne pepper for some heat.
Use a Y Peeler for easy peeling. Best peeler I've ever had!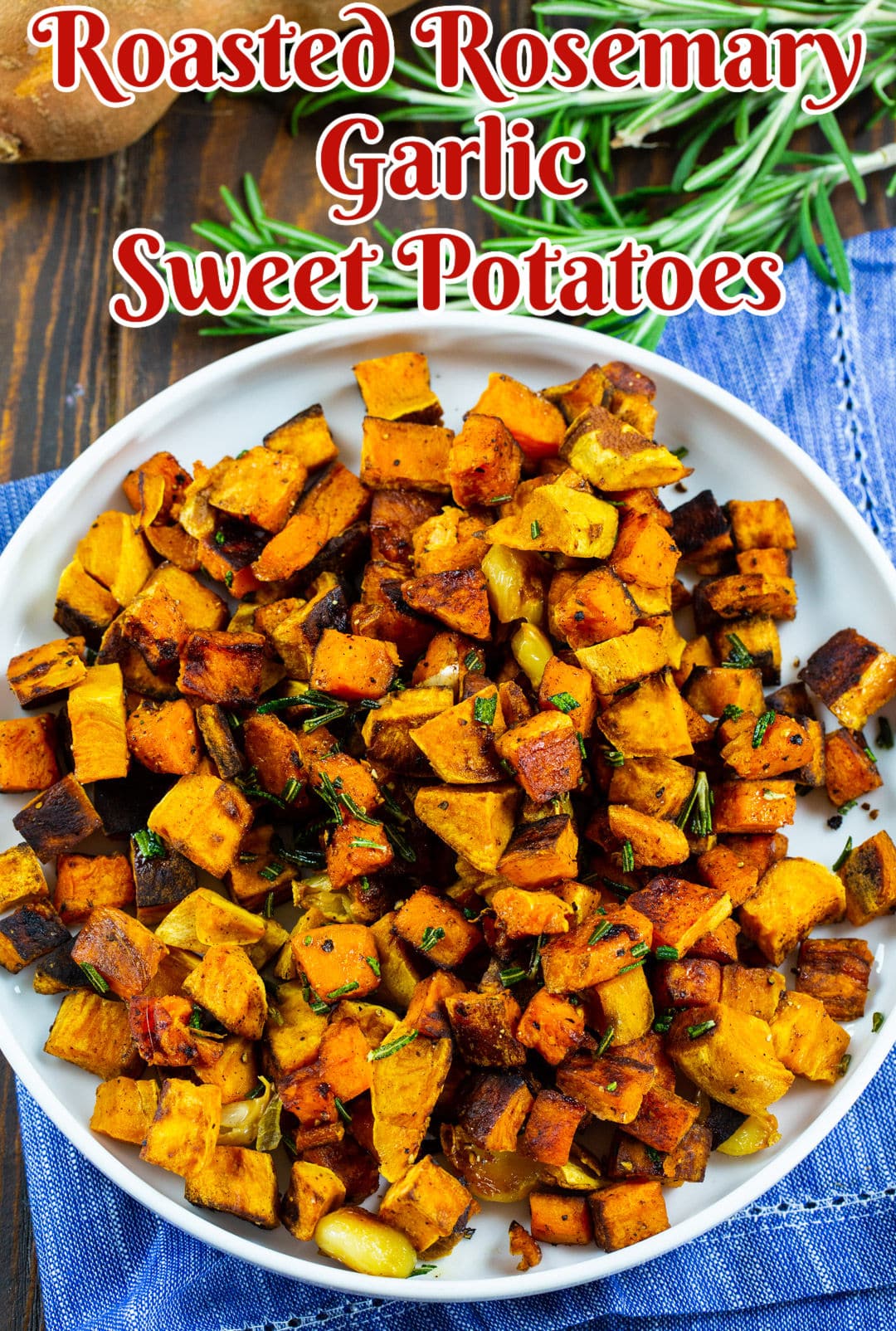 More Sweet Potato Recipes
Preheat oven to 425 degrees and spray a rimmed baking sheet with cooking spray.

Peel the sweet potatoes and cut into a 1/2 to 1-inch dice.

Peel the garlic cloves and crush them slightly with the side of a knife.

Place sweet potatoes and garlic on prepared baking sheet. Drizzle with olive oil. Use a spoon to stir the sweet potatoes until evenly coated. Spread out in a single layer.

Sprinkle with rosemary, salt, pepper, and cinnamon.

Bake for 30 to 35 minutes, stirring halfway through.
Note: Once cooked, you can either keep the garlic cloves whole, or chop them into smaller pieces.
Want to Save This Recipe?