Old Fashioned Cocktail Recipe – Love and Lemons
3 min read
Learn how to make an old fashioned! This simple recipe calls for just 5 ingredients, so you can easily make this classic whiskey cocktail at home.
You don't need to go to a bar or a restaurant to enjoy an old fashioned. Nope, this classic whiskey cocktail is a cinch to make at home! In fact, it's Jack's favorite drink, so we always keep old fashioned ingredients on hand. They're super simple: whiskey (Jack likes rye), Angostura Bitters, a little sugar, ice, and an orange twist for garnish.
Jack's biggest tip for this old fashioned recipe is to choose a whiskey you love. The simplicity of an old fashioned means that there's not much to mask the flavor of the liquor. If anything, the bitters and sugar enhance it. For that reason, you'll want to make this old fashioned recipe with a whiskey whose nuances you want to feature. Jack likes rye because it has a spicier, drier finish, whereas a bourbon old fashioned will have sweeter notes. His go-to brands are Bulleit and Koval (made locally in Chicago!). Woodford Reserve is a good option too.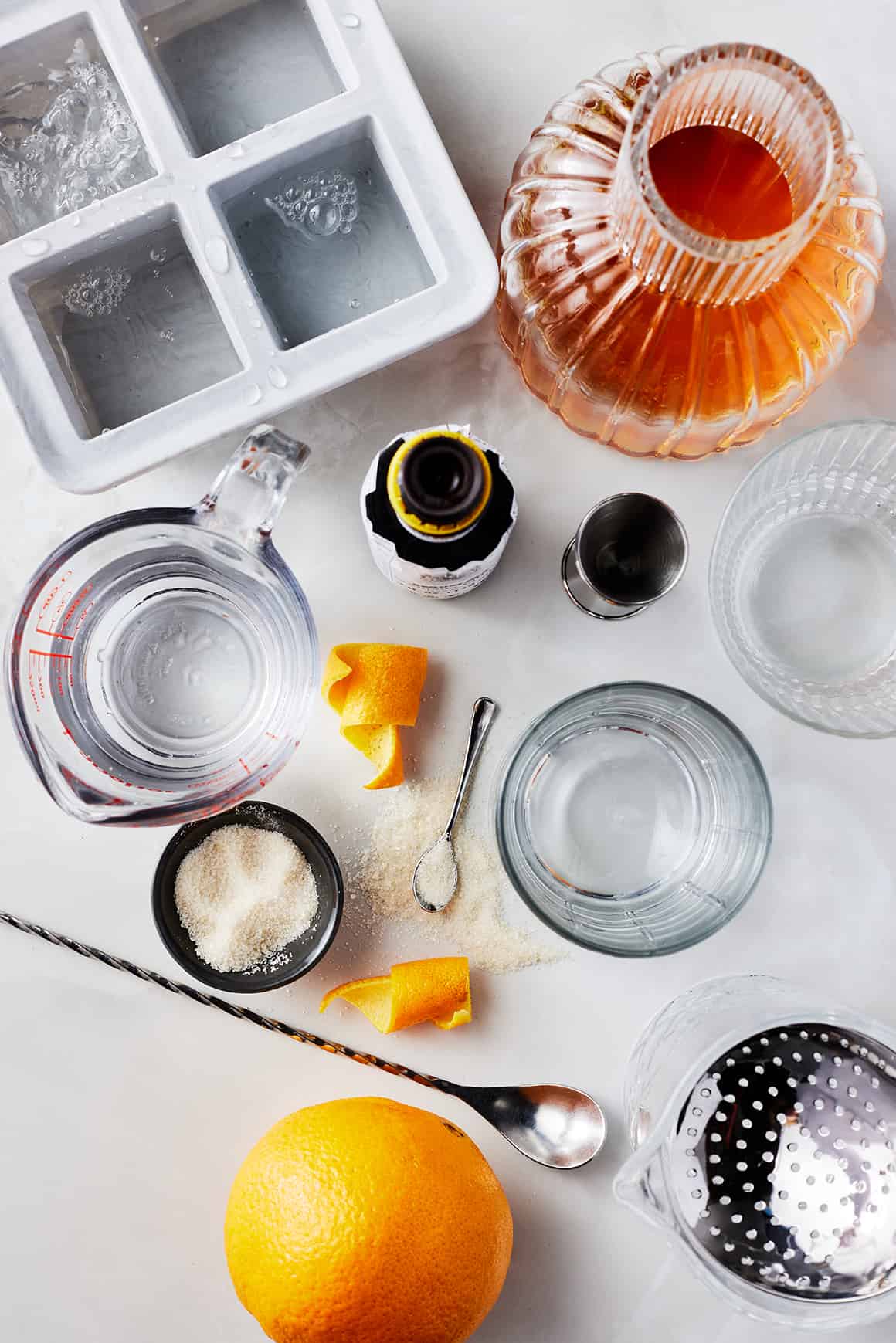 Old Fashioned Recipe Ingredients
Here's what you'll need to make this old fashioned recipe:
Whiskey – Choose bourbon for a sweeter, oakier cocktail or rye for a drier one.
Angostura Bitters – They add notes of clove and cinnamon.
Sugar – A traditional old fashioned would use a sugar cube or granulated sugar as a sweetener. Either will work well here, though if we have simple syrup on hand, we often use it instead. That way, we don't have to worry about dissolving the sugar in the drink.
Ice – Instead of using crushed ice or small ice cubes, opt for one large ice cube here. It melts more slowly than smaller ice cubes would, so it doesn't dilute the cocktail too quickly.
And an orange peel – Or whatever garnish you like! You could use an orange slice, lemon peel, or a cocktail cherry instead.
Find the complete recipe with measurements below.
How to Make An Old Fashioned Cocktail
Once you have your ingredients ready, this old fashioned recipe is a breeze to stir together. Here's how it goes:
First, muddle the sugar and bitters in the bottom of a rocks glass until the sugar dissolves. We love this cocktail muddler! If you want to simplify this step, use simple syrup instead of the sugar.
Next, add the whiskey and ice. Stir well to mix the whiskey with the sugar and bitters.
Then, let the old fashioned sit for at least 30 seconds. This time allows the whiskey to chill, and it gives the ice a chance to melt a bit, slightly diluting the cocktail. (The most basic definition of an old fashioned–dating back to the 1800s!–is a mixture of spirits, sugar, bitters, and water. We skip the water and let the ice melt a little instead!)
Finally, garnish and enjoy! Top off your glass with a twisted orange peel and/or maraschino cherry. Cheers!
More Classic Cocktail Recipes
If you love this old fashioned recipe, try one of these easy cocktails next:
Old Fashioned
Serves 1
Learn how to make an old fashioned! This classic whiskey cocktail recipe is one of our favorites, and it's so simple to make at home.
This post contains affiliate links which means we make a small commission if you purchase an item that we recommend.