Lockdown kids got two years of screens, influencers and junk food ads
2 min read
[ad_1]

A group of NSW high school students has ranked the perils of social media, declining mental health and the absence of junk food regulation as some of the most serious risks to teenagers in an essay published in one of the world's top medical journals.
The sixteen students, who are among the youngest authors to be published in a Lancet journal, are calling on governments to urgently address the public health fallout after two years of pandemic lockdowns.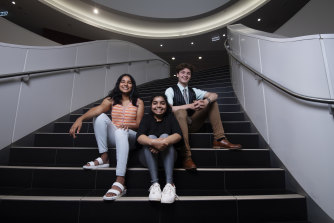 "We are being left behind to manage these growing health issues," Meera Barani, 17, said. "Social media, the rise of influencers and less physical activity are having detrimental effects on young people. We are being left to our own devices."
"Without any action young people will be more and more exposed to the risk of chronic diseases," Barani said, who, along with Radhika Valanju, 17, and Dominik Mautner, 16, are the lead authors in the essay published in the Lancet Child & Adolescent Health on Saturday.
The students, from across NSW and all aged between 13 and 17, are part of a University of Sydney youth health advisory group led by senior research fellow Dr Stephanie Partridge.
Loading
They started meeting regularly over Zoom during the state's months-long Delta lockdown.
"We could barely meet in person because of COVID-19," Valenju said. "But we all felt the pressure of isolation. How the pandemic was contributing to obesity, lack of physical activity and just so much social media use … these were such common themes among all of us."
The group's top concerns – including misleading advertising by fast-food chains, the impact of social media and influencers and a sudden downturn in physical activity – became the basis of their essay submission to the Lancet journal and a list of key recommendations to policymakers.
[ad_2]

Source link