Lightened-Up Tuna Casserole Recipe | Gimme Some Oven
7 min read
This post may contain affiliate links. Please read my disclosure policy.
This lightened-up tuna casserole recipe is tossed with a creamy garlic-herb sauce, lots of veggies, tender egg noodles and a crispy Panko topping.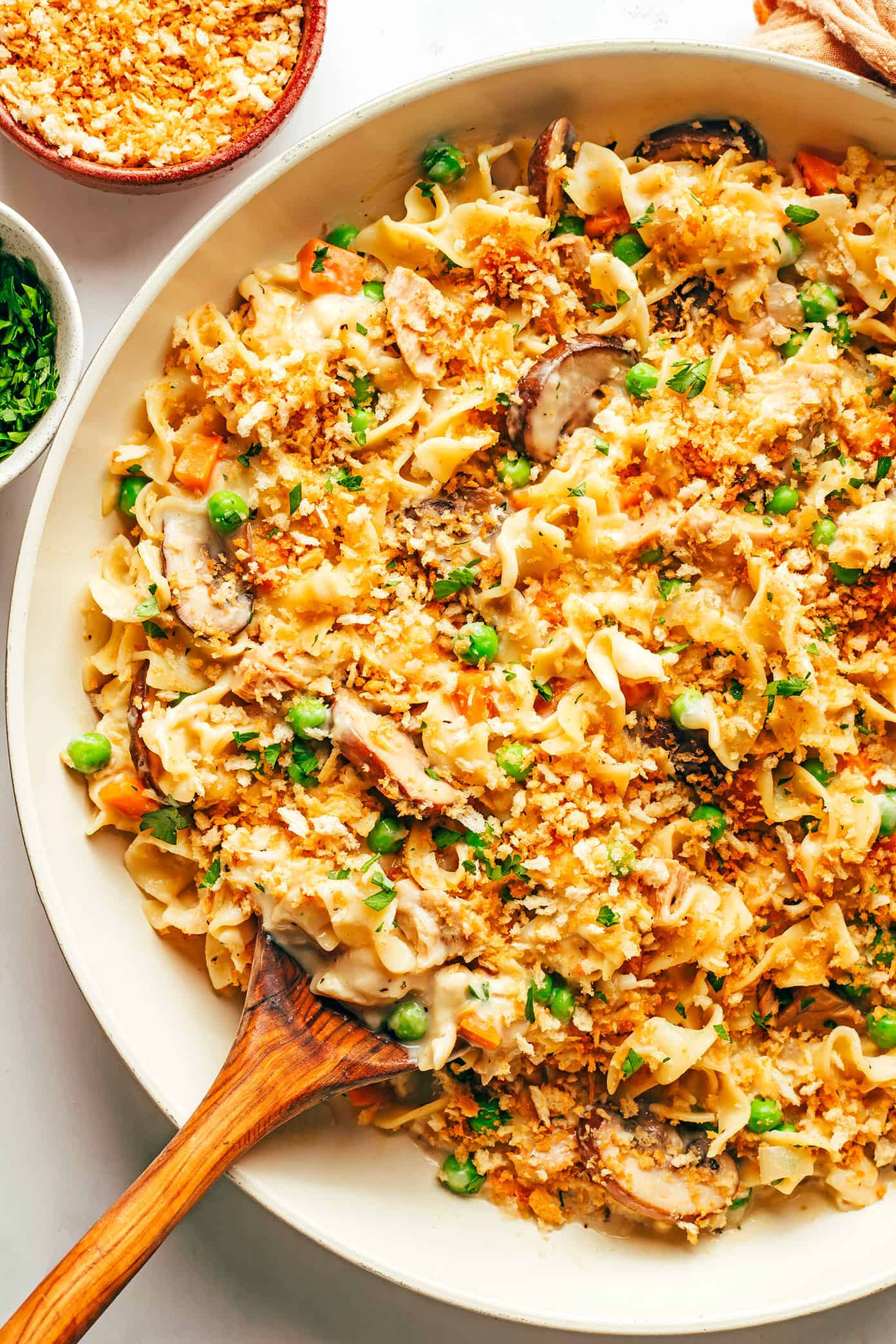 Raise your hand if you grew up eating tuna casserole! ♡
This was one of our family's favorite weeknight dinners growing up, and still continues to be one of those recipes I love turning to this time of year when we're craving some warm and cozy casserole comfort food. (Forever and always a Midwesterner at heart, right?)
Three decades ago, we always used to make tuna noodle casserole from a box or with the help of some canned cream of mushroom soup. But it's actually incredibly simple to make homemade tuna casserole completely from scratch, which gives us the chance to also toss in lots of fresh veggies and lighten up the creamy sauce a bit. If needed, you can also easily adapt this recipe to be gluten-free too.
I will say that prefer to just serve this pasta "casserole" straight out of the pan nowadays, topped with a generous sprinkling of toasted Panko breadcrumbs, rather than baked the traditional extra 20 minutes in the oven. (Why overcook the pasta when it can be served perfectly al dente with with a melty cheddar cream sauce?) And while I made this batch with the traditional mushrooms, carrots and peas, this recipe would welcome just about any leftover veggies that you happen to have sitting in your crisper drawer.
Let's make some modern tuna casserole!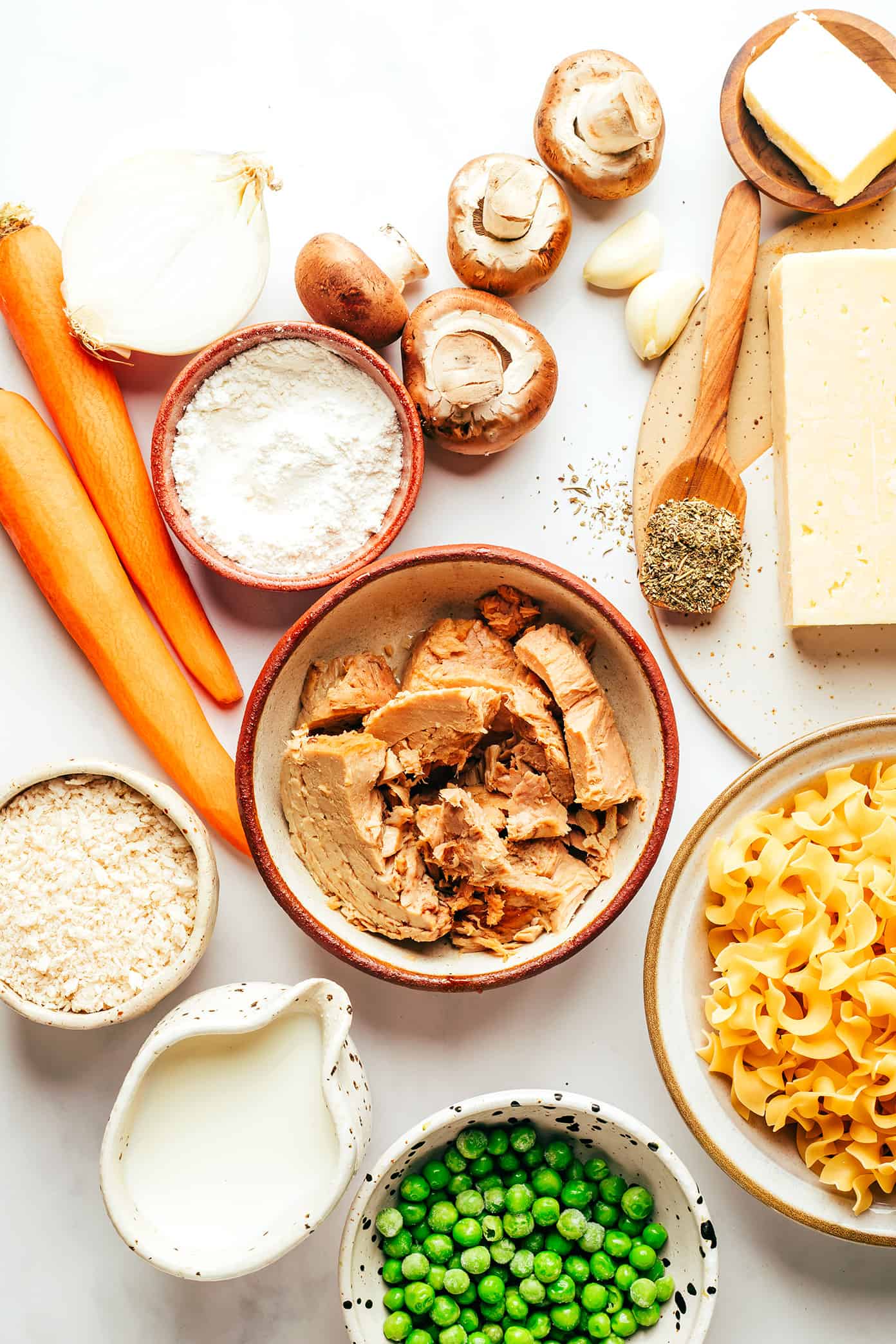 Tuna Casserole Ingredients
Here are a few brief notes about the tuna casserole ingredients you will need to make this recipe:
Tuna: I recommend a good-quality brand of oil-packed canned tuna for this casserole. (Water-packed canned tuna will also do, but it will be less flavorful.) If possible, please consider looking for a more sustainable brand of tuna too!
Egg noodles: I always grew up eating tuna casserole made with curly wide egg noodles, which taste delicious here. But you're welcome to sub in any other kind of semolina, whole wheat, legume or gluten-free pasta that you prefer.
Veggies: We'll use a traditional mix of carrots, onions, baby bella mushrooms, frozen peas and garlic, sautéed in butter (or you can use olive oil if you prefer).
Cheddar cheese: I love making this casserole with a good sharp white cheddar cheese, but see suggestions below if you would like to swap in a different kind of cheese.
Flour: We'll use basic all-purpose flour to slightly thicken the cream sauce.
Broth + milk: I like using a 50/50 mix of broth (either chicken or vegetable broth) and plain milk (dairy or plant-based) as the base for the cream sauce.
Seasoning: All you need is Italian seasoning, fine sea salt and freshly-ground black pepper to season this retro casserole. That said, feel free to swap in some fresh Italian herbs for dried if you happen to have them on hand.
Panko: Crispy panko breadcrumbs will serve as a simple topping for this casserole, which you can toast until golden either on the stovetop in a sauté pan or in the oven on a sheet pan.
Optional garnishes: Finally, I recommend a generous sprinkling of chopped fresh parsley or thyme. And I also definitely recommend serving up each portion with a large lemon wedge for squeezing.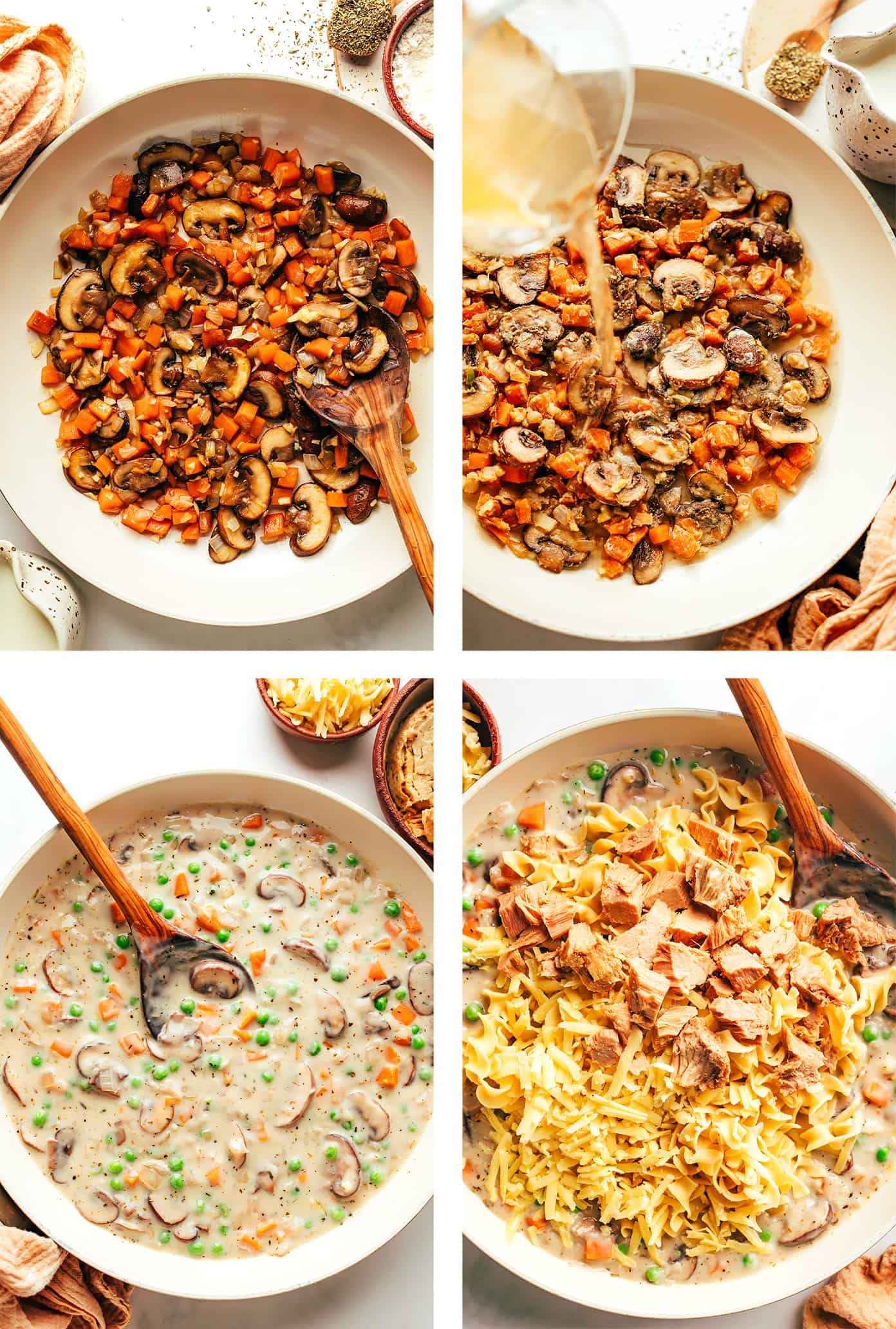 How To Make Tuna Casserole
Full step-by-step instructions for how to make tuna casserole are included in the recipe below, but here are a few tips to help make this recipe a success!
Grate the cheese by hand. As always, I recommend purchasing a block of cheese and grating it by hand (I use this box grater) in order for it to melt smoothly into the sauce. Store-bought pre-grated cheese can work in a pinch too, but the coating on it will likely prevent it from melting perfectly smoothly.
Watch the Panko closely while toasting. Whether you choose to toast the Panko on the stovetop or in the oven, it can go from golden to burnt in a matter of minutes. So keep a close eye on the Panko, and be sure to give it a good shake/toss once the first layer begins to turn golden so that all of the Panko can toast more or less evenly.
Don't overcook the noodles. Be sure to transfer the noodles into the sauce when they are just *barely* al dente, since they will continue to cook slightly more while being tossed with the hot cream sauce.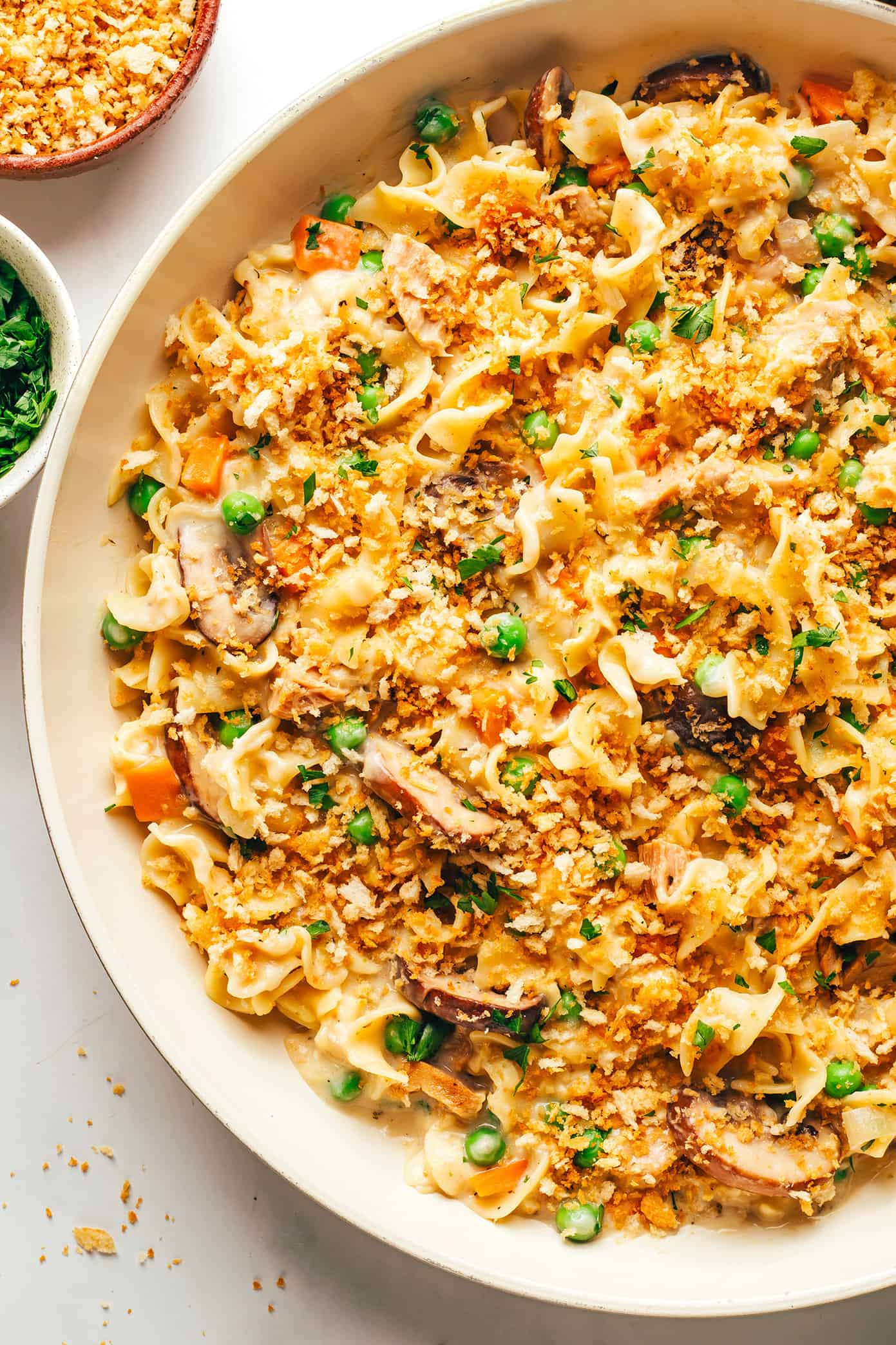 Recipe Variations
Here are a few additional ways that you're welcome to customize this easy tuna casserole recipe if you would like:
Add extra veggies: Add (or swap) any other veggies into the sauté that you think would go well with this casserole, such as asparagus, bell peppers, broccoli, cauliflower, celery, green beans, kale, spinach, zucchini, etc.
Use a different cheese: Use your choice of shredded cheese in place of the cheddar, such as Gruyere, Gouda, Monterrey Jack, mozzarella, etc. Or reduce the amount and instead use a crumbled cheese, such as feta, goat cheese, Parmesan, etc.
Use different seasonings: There are a number of different directions that you could go with the dried or fresh herbs and seasonings used to season this casserole. I often love using fresh instead of dried Italian herbs if I happen to have them on hand, such as fresh basil, rosemary or thyme. Or I've also made this casserole using various Cajun seasonings, which was delicious. Or you could really amp up the lemon and black pepper to go for a lemon pepper vibe. Lots of fun options!
Make it gluten-free: Use your favorite variety of gluten-free noodles in place of the egg noodles. Then I would recommend using a tablespoon or two of cornstarch slurry (equal parts cold water whisked with cornstarch) to thicken the sauce in place of the all-purpose flour.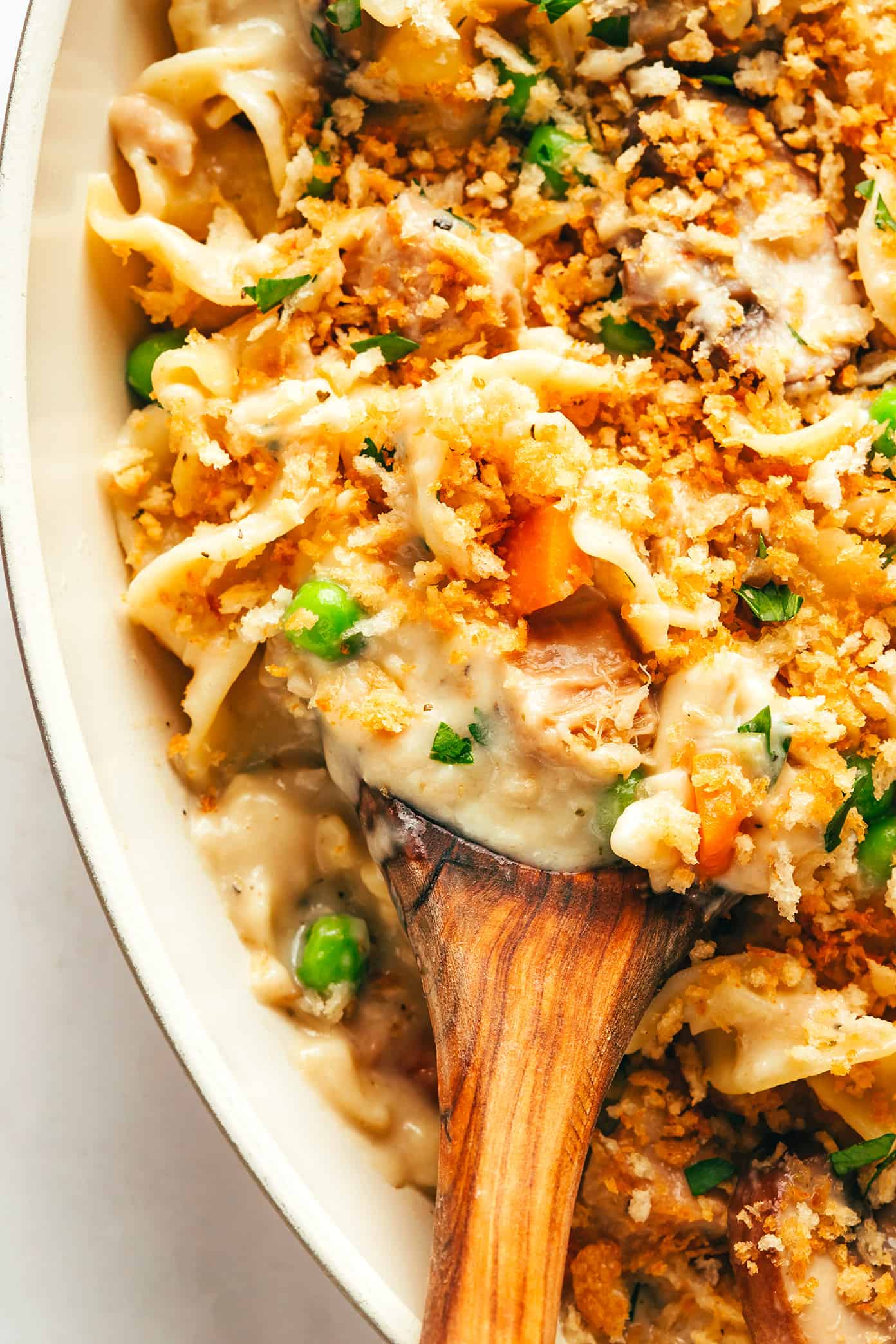 More Favorite Casserole Recipes
Looking for more classic casserole recipes to try? Here are a few of my tried-and-true favorites: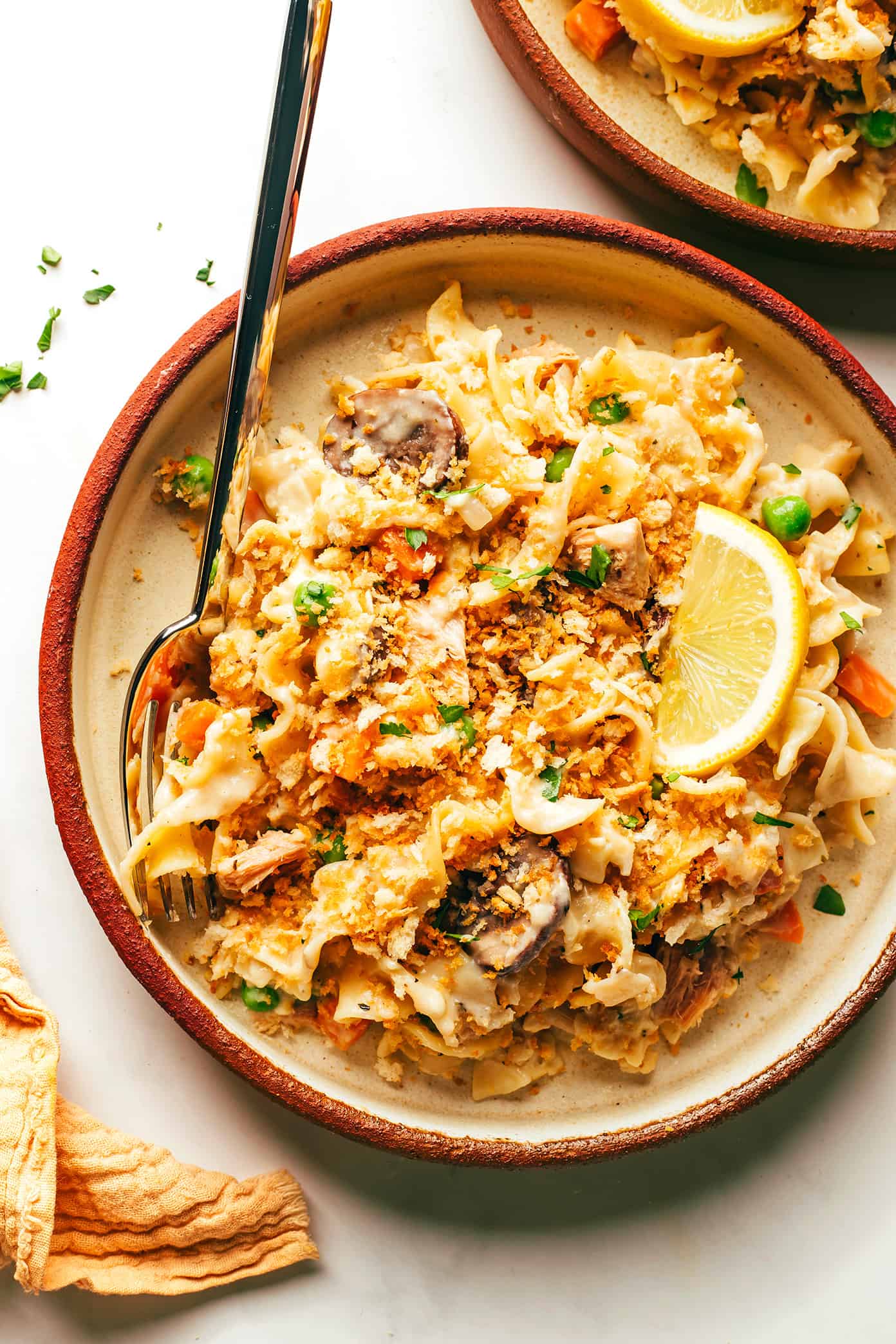 Print
---
Description
This lightened-up tuna casserole recipe is tossed with a creamy garlic-herb sauce, lots of veggies, tender egg noodles and a crispy Panko topping.
---
1/4 cup

toasted Panko breadcrumbs

2 tablespoons

butter

8 ounces

baby bella mushrooms, sliced

2

medium carrots, diced

1

medium white onion, diced

3

cloves garlic, minced

1/4 cup

all-purpose flour

1 1/2 cups

chicken or vegetable stock

1 1/2 cups

plain milk

2 teaspoons

Italian seasoning,

homemade

or store-bought

1 teaspoon

fine sea salt

1/2 teaspoon

freshly-ground black pepper

1 cup

frozen peas

8 ounces

wide egg noodles

3

(5-ounce) cans tuna, drained

1 cup

(4 ounces) grated sharp white cheddar cheese

optional garnishes: chopped fresh parsley or fresh thyme, lemon slices
---
Heat water for noodles.

Bring a large stockpot of salted water to a boil.

Toast the breadcrumbs.* Heat the breadcrumbs in a large sauté pan over medium-high heat. Once the bottom layer of the breadcrumbs begin to turn golden, give the pan a good stir (or a good shake) to toss. Continue cooking for 1-2 more minutes, tossing regularly, until the breadcrumbs are more or less evenly golden. Transfer the breadcrumbs to a clean bowl and set aside. Wipe down the pan with a clean cloth and return it to the heat.
Sauté veggies.

Add butter and cook until melted. Add mushrooms, carrots, onions and sauté for 6-8 minutes, stirring occasionally, until the onion is softened and the mushrooms are browned. Add garlic and sauté for 1 minute, stirring frequently. Add flour and sauté for 1 minute, stirring frequently so that it is well combined.

Make the sauce.

Add the stock and stir to combine. Add the milk, Italian seasoning, salt, pepper, peas and stir to combine. Continue cooking until the sauce nearly reaches a simmer, then reduce heat to low. Meanwhile…

Cook the noodles.

Around the same time that you add the stock to the sauce, add the noodles to the boiling water and cook until just barely al dente. Use a spider strainer to drain and transfer the noodles directly to the mushroom sauce. (Or if your sauté pan is not large enough to hold everything, you can drain the noodles completely and then combine the noodles and sauce in the stockpot that you used to cook the noodles.)

Mix the casserole.

Add the veggie sauce mixture to the noodles, along with the tuna and cheddar cheese. Toss gently until combined and the cheese has melted.

Serve.

Serve the pasta warm, sprinkled with toasted breadcrumbs, a pinch of herbs, and garnished with a lemon wedge for squeezing. Enjoy!
---
Notes
Toasting the breadcrumbs: If you would like to save time, you can toast the breadcrumbs in a separate sauté pan while the veggies sauté. Or if you prefer, you can toast the breadcrumbs on a baking sheet in the oven at 350°F until golden.
Recipe edit: This recipe was updated in 2022. It originally called for baking the casserole (pasta topped with untoasted breadcrumbs) at 400°F for 18-20 minutes, which you are still welcome to do. But I never liked how that method tends to overcook the pasta, so I prefer to skip the baking and just serve the freshly-cooked pasta topped with toasted breadcrumbs.