Grilled Teriyaki Chicken with Homemade Teriyaki Sauce
4 min read
[ad_1]

Easy grilled teriyaki chicken with a super tasty, super simple homemade teriyaki sauce! This chicken is perfect for main dishes, salads and more!
Wow! This simple teriyaki chicken is amazing!
Our favorite way to eat it is with a side of rice, fresh pineapple and a steamed veggie, and here's the full disclaimer: we are eating it A LOT because it is so incredibly good!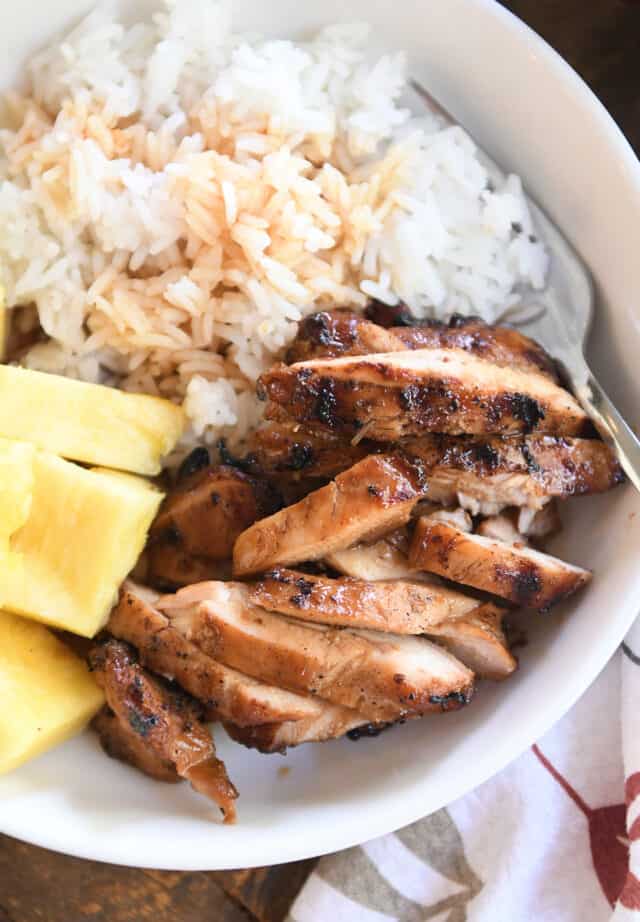 Homemade Teriyaki Sauce
This grilled teriyaki chicken recipe starts with a VERY simple homemade teriyaki sauce.
FIRST: Simmer together soy sauce, brown sugar, honey, and unseasoned rice vinegar until the sugar dissolves.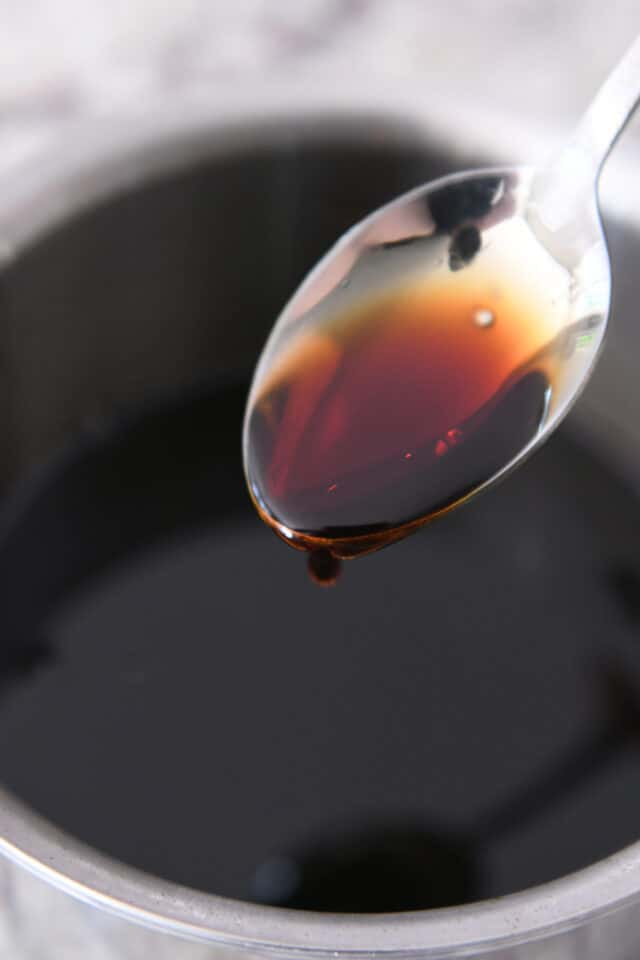 SECOND: reserve 1/2 cup of the sauce and pop it in the fridge to use later.
THIRD: let the rest of the sauce cool to room temperature and then add a heaping tablespoon each of fresh ginger and garlic and blend (the frozen cubes of ginger and garlic from Trader Joe's and other stores work brilliantly well here).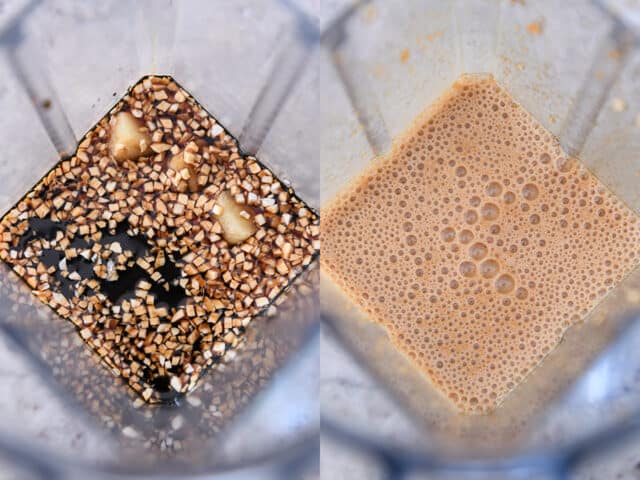 Chicken Thighs vs Chicken Breasts
Pour the blended sauce mixture over the chicken and marinate for at least an hour, but preferably more like 8-12 hours.
I am rarely persuaded to use chicken thighs over chicken breasts, but in this recipe, boneless, skinless chicken thighs really shine. They are juicy and flavorful, and all of their flaws-according-to-Mel can mostly be forgiven.
If you want to use chicken breasts, only marinate for up to 4 hours and keep an eye on the cooking time so the chicken breasts don't overcook.
Keep the Sauce
Once the chicken is cut into slices, take the reserved marinade and drizzle lightly over the chicken.
The sauce is deliciously potent and powerful, so a little bit goes a long way!
This recipe reminds me a lot of this favorite Hawaiian Grilled chicken, except it is less sweet with a stronger teriyaki flavor. It has quickly become a huge family favorite with at least one of my kids pleading to include it on the menu plan every week.
I'm never tempted to say no – it's so good and has won me over big time, too!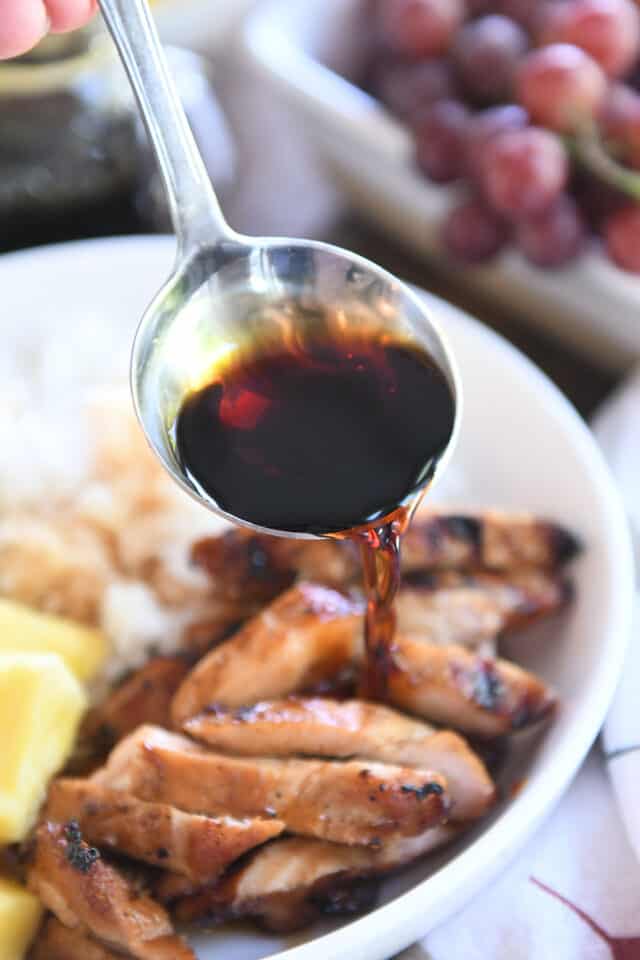 One Year Ago: Easy Homemade Strawberry Frozen Yogurt No Ice Cream Maker Needed 
Two Years Ago: Amazing No-Bake Peanut Butter Cups Vegan, Gluten-Free, Tree Nut-free
Three Years Ago: Peanut Butter Kitchen Sink Cookies Caramel, Pretzels, M&Ms, and More 
Four Years Ago: Amazing Lemon White Chocolate Cheesecake
Five Years Ago: Mexican Haystacks Easy 30-Minute or Less Meal 
Six Years Ago: Perfect Corn on the Cob
Seven Years Ago: Healthier Chocolate No-Bake Cookies
Eight Years Ago: Fresh Strawberry Gelato i.e. Italian Ice Cream 
Nine Years Ago: Grilled Honey Chicken and Veggie Kebabs
Ten Years Ago: Creamy Spinach Artichoke Pizza
Grilled Teriyaki Chicken
1

cup

low-sodium soy sauce (see note)

½

cup

lightly packed brown sugar

2

tablespoons

honey

¼

cup

unseasoned rice vinegar

1

tablespoon

freshly grated ginger

1

tablespoon

finely minced fresh garlic

2 to 3

pounds

boneless, skinless chicken thighs (see note)
In a small saucepan, combine the soy sauce, brown sugar, honey, and vinegar. Heat over medium heat, stirring often, until the mixture is simmering and the sugar is dissolved.

Measure out 1/2 cup of the mixture into a container and put in the refrigerator to use later.

Cool the remaining sauce to room temperature (speed this up by pouring the sauce from the hot pan into a separate container and refrigerating or stirring until cooled).

Pour the sauce into a blender and add the ginger and garlic. Blend until well-combined.

Place the chicken in a shallow dish. Pour the blended teriyaki sauce over the chicken. Cover the dish and refrigerate for at least 1 hour (or up to 12 hours). The teriyaki flavor of the chicken will be stronger the longer it marinates.

Grill the chicken (discarding the marinade) over medium high heat for about 6-8 minutes per side (use less time for chicken breasts); an instant-read thermometer should register 165 degrees F at the thickest part. Brush the chicken with some of the reserved sauce during the last 1-2 minutes of cooking (save the rest of the sauce to serve with the chicken).

Tent the chicken and let rest for 5-7 minutes before serving. Cut the thicken into thin slices and serve with the rest of the reserved teriyaki sauce.
Soy Sauce: I've only ever made this recipe with low-sodium soy sauce. Full sodium soy sauce might make the finished dish too salty. 
Chicken: chicken thighs do best in this potent teriyaki marinade, but you can try chicken breasts instead. If so, don't marinate for longer than 4 hours and don't overcook (take the chicken off right when it reaches 165 degrees F at the thickest part). 
Serving: 1 serving, Calories: 338kcal, Carbohydrates: 20g, Protein: 21g, Fat: 19g, Saturated Fat: 5g, Cholesterol: 111mg, Sodium: 1239mg, Fiber: 0.3g, Sugar: 18g
Follow @MelsKitchenCafe on Instagram and show me the recipes you are making from my blog using the hashtag #melskitchencafe. I love seeing all the goodness you are whipping up in your kitchens!
Recipe Source: inspired by a recipe from June/July 2020 issue of Cook's Country (I changed up the type of sugar, added honey, dialed in amounts of garlic and ginger, used rice vinegar in place of mirin, etc)
Disclaimer: I am a participant in the Amazon Services LLC Associates Program, an affiliate advertising program designed to provide a means for me to earn fees by linking to Amazon.com and affiliated sites. As an Amazon Associate I earn from qualifying purchases.


[ad_2]

Source link