Giant Cinnamon Roll Recipe | Ready In Just 1 Hour!
7 min read
[ad_1]

This post may contain affiliate links. Please read my disclosure policy.
This giant cinnamon roll recipe is made with the most delicious soft dough, cinnamon-sugar filling, and a tangy cream cheese icing. Ready to go in one hour from start to finish!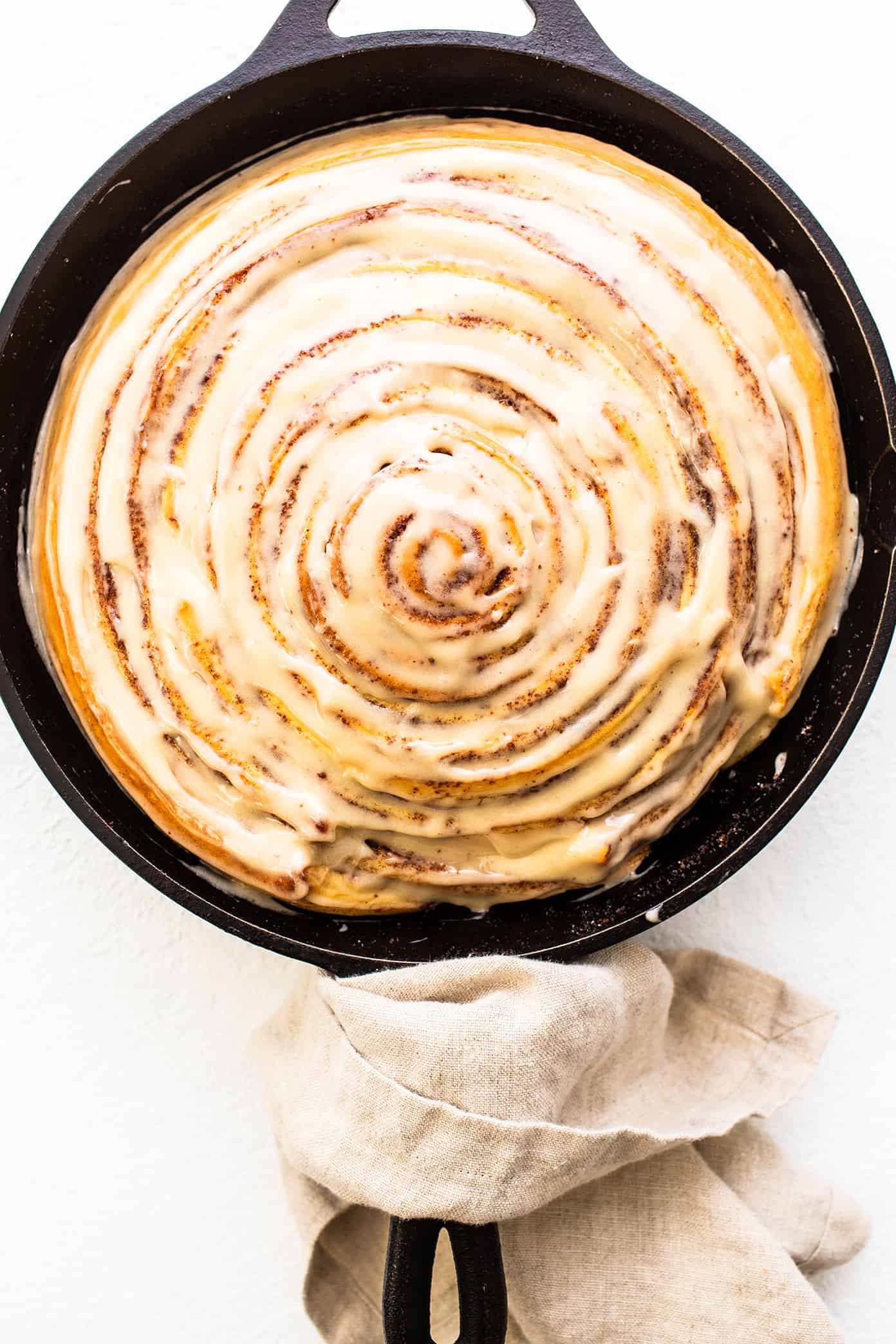 Only thing more delightful than a pan of cinnamon rolls?
One giant cinnamon roll. ♡
Seriously, we've been having such a fun time serving up this variation on my 1-hour cinnamon rolls recipe over the past year. People are downright delighted each time this giant roll emerges from the oven. And when topped with my favorite cream cheese icing, sliced into wedges, served up nice and warm, and drizzled with a little extra icing for good measure (I insist), this giant cinnamon roll will definitely be stealing the show at your next brunch!
The great news for all of us is that this recipe is pretty simple to make and comes together easily in just one hour. There's also no stand mixer required (although you are welcome to use yours if you own one), and the giant roll can be baked in a skillet, pie plate, or any other oven-safe pan that you prefer. We've also included detailed step-by-step instructions in the video below for exactly how to wrap this giant roll, so I recommend giving it a quick watch before you begin.
If you love cinnamon rolls as much as we do in our house, you simply must give this one a try. Enjoy!!
Giant Cinnamon Roll Video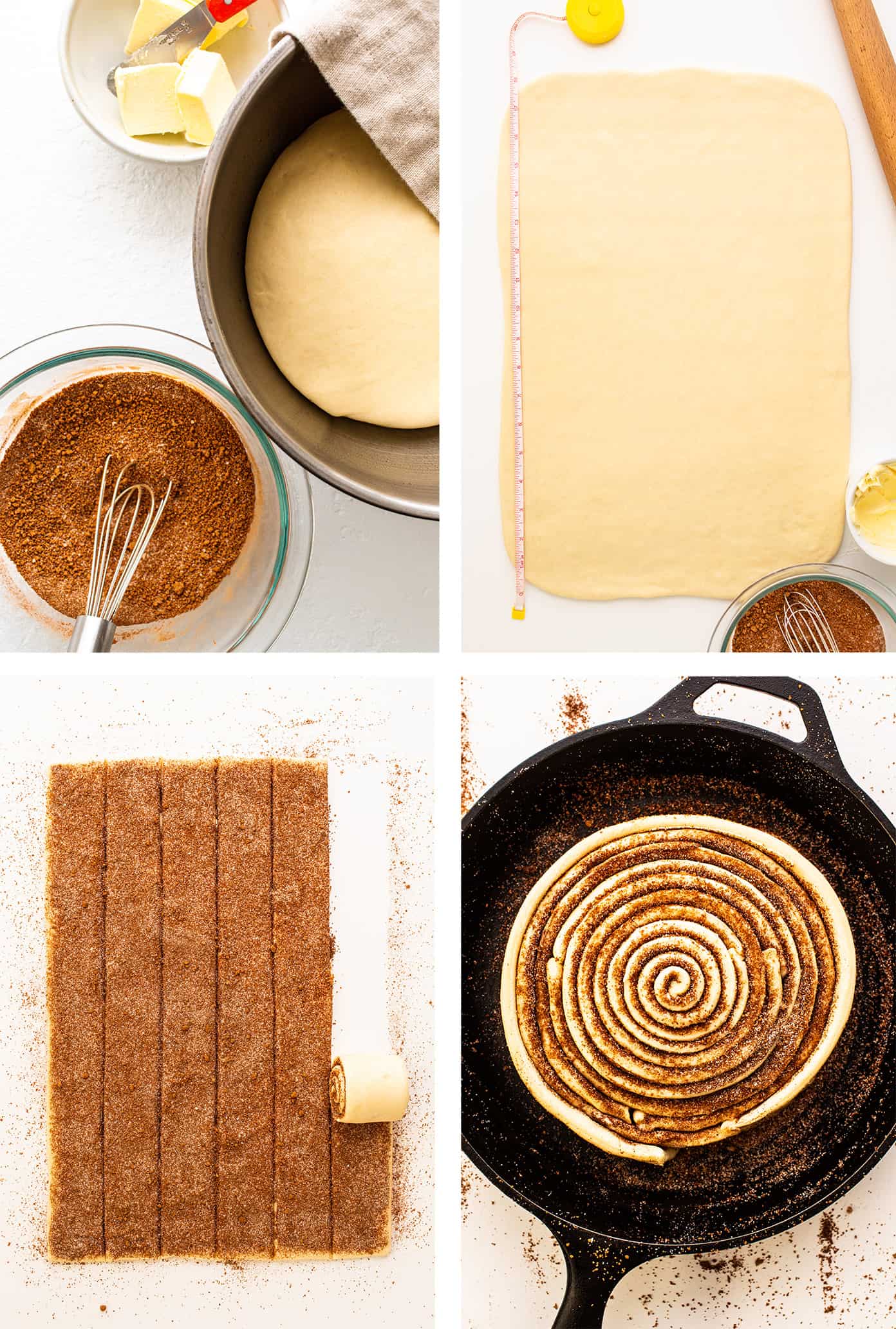 Giant Cinnamon Roll Ingredients
Before we get to the giant cinnamon roll recipe below, here are a few notes about the ingredients you will need:
Milk: I typically use 2% cow's milk in cinnamon roll dough. But any plain plant-based milk could also work well here.
Butter: We will use butter in the dough, cinnamon-sugar filling 

and

cream cheese icing. Be sure to set it out in advance so that it can be room temperature, especially in order to help it spread easily for the cinnamon-sugar filling.
Flour: This recipe has only been tested with basic all-purpose flour.
Sugars: We will use both white granulated sugar, light brown sugar, and powdered sugar in the various elements of this cinnamon roll recipe.
Salt: Just a hint of fine sea salt will help the flavors in the cinnamon roll dough to shine.
Yeast: I recommend using instant (a.k.a. "rapid rise") yeast to help the dough rise quickly.
Egg: One large egg will help the dough be extra moist and fluffy.
Cinnamon: Starring ingredient, of course, in the cinnamon-sugar filling.
Cream cheese: I always make my cinnamon roll recipes with a cream cheese icing, as its tanginess pairs so well with the sweet rolls. But if you prefer a basic icing (without cream cheese), see notes in the recipe below.
Vanilla extract: Finally, we will use a touch of vanilla to round out all of those delicious flavors in the cream cheese icing.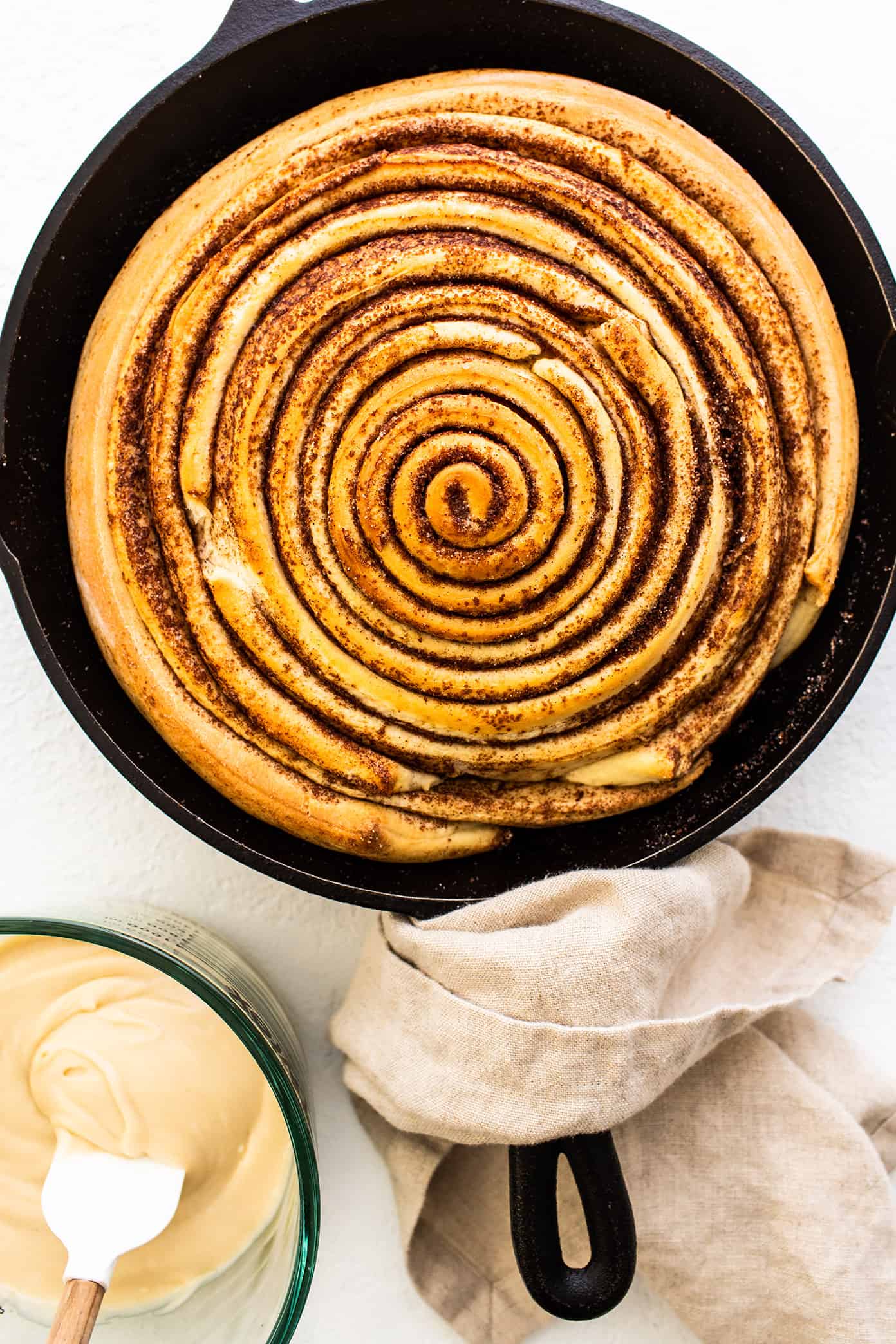 Giant Cinnamon Roll Tips
Full instructions for how to make this giant cinnamon roll are included in the recipe below, but here are a few extra tips to keep in mind:
Use a thermometer: I always highly recommend using a cooking thermometer to ensure that your milk mixture is the proper temperature (around 110°F) before adding it to the yeast. If the milk mixture is too hot, it will kill the yeast. Too cold, and it will not activate the yeast.
Use room temperature butter: As mentioned above, it's important that your butter be room temperature so that it can be easily spread over the dough when adding the cinnamon-sugar filling. If you didn't have time to set the butter out in advance, you can microwave the butter unwrapped on a plate in 10-second intervals, flipping the butter 90 degrees for each interval so that it can heat evenly on all sides, until softened.
Watch the video: I really recommend watching the video before making this recipe to get a clear visual on my recommended method for wrapping the dough, since it can be a bit unwieldy trying to wrap a cinnamon roll this large. Also, be sure to wrap the dough fairly loosely so that it will have room to expand while baking. And don't stress about perfection…it will be delicious however it looks!
Multitask: If you legit want to make this recipe happen in one hour, you'll need to do some multitasking and prep the cinnamon-sugar filling while the dough is rising, prep the cream cheese frosting while the rolls are baking, etc.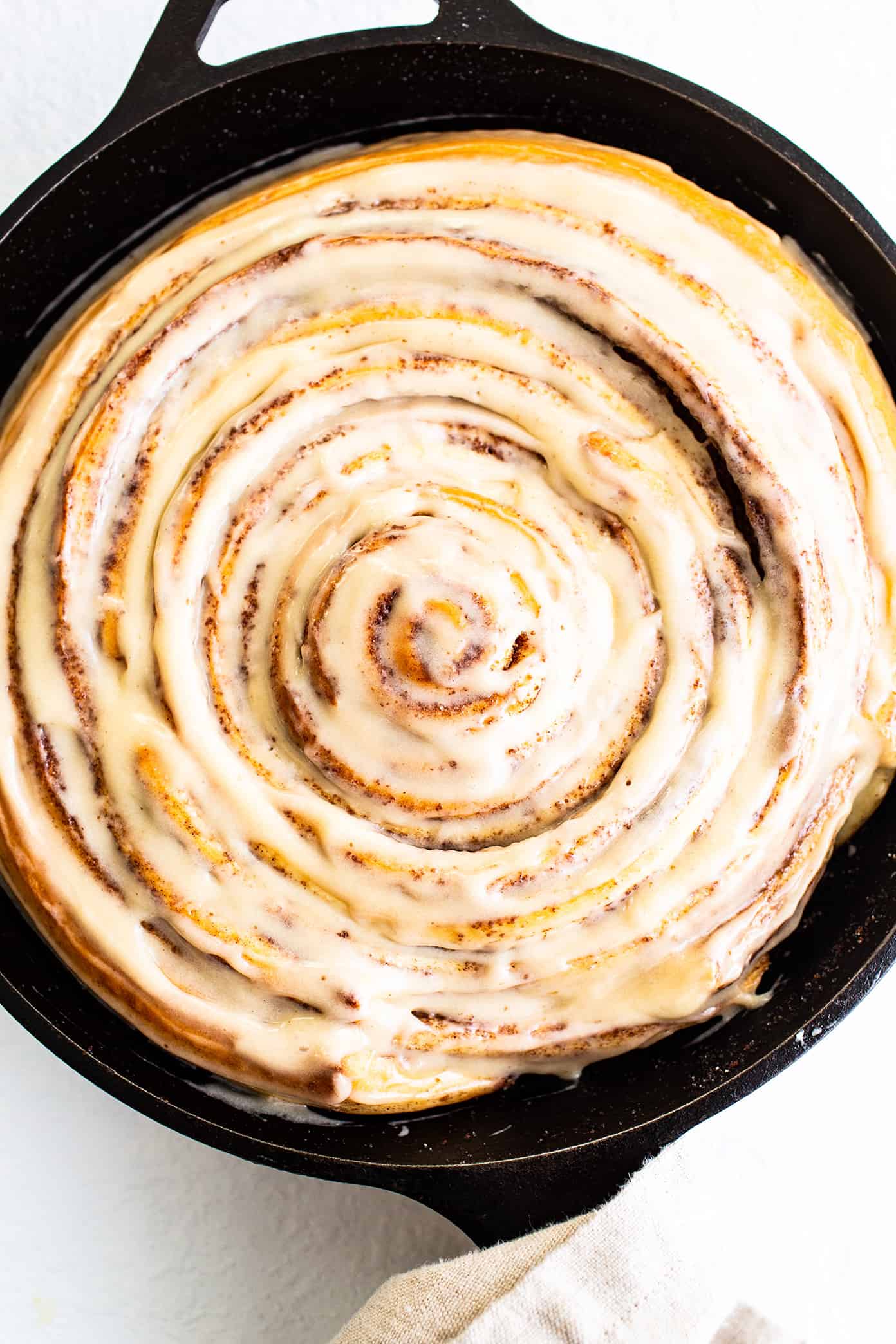 More Cinnamon Roll Recipes
Looking for more cozy homemade cinnamon roll recipes to try? Here are a few of my faves: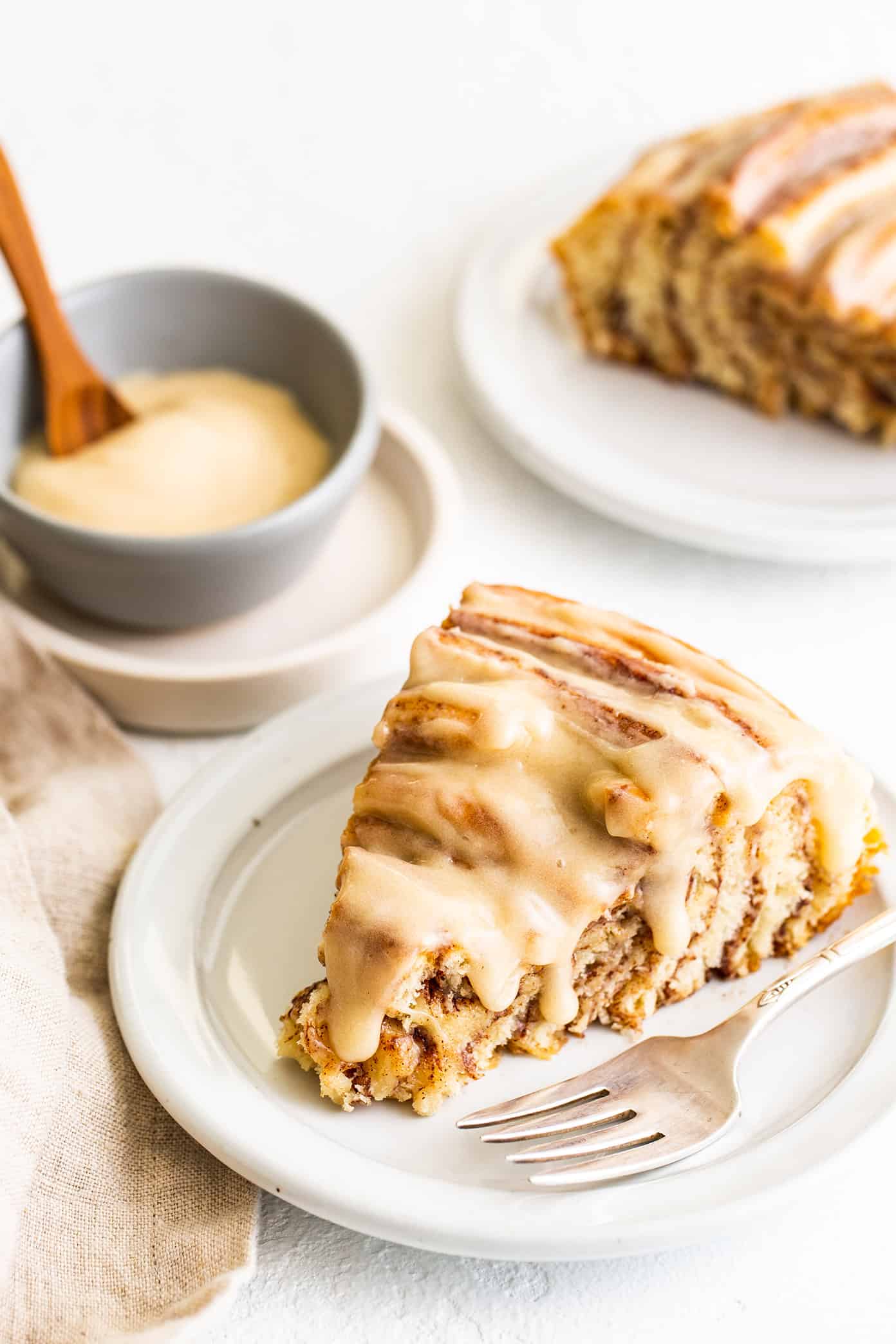 Print
---
Description
This giant cinnamon roll recipe is made with the most delicious soft dough, cinnamon-sugar filling, and a tangy cream cheese icing. Ready to go in one hour from start to finish!
---
Dough:
1 cup

milk (I used 2% milk)

1/4 cup

butter, softened

3 cups

all-purpose flour

1/4 cup

granulated sugar

1/2 teaspoon

salt

1

envelope (2 1/4 teaspoons)

instant ("rapid rise") yeast

1

egg
Cinnamon-Sugar Filling:
1/4 cup

granulated white sugar

1/4 cup

packed brown sugar

2 tablespoons

ground cinnamon

1/4 cup

butter, softened
Cream Cheese Icing:
4 ounces

(1/2 cup) cream cheese, softened

3 tablespoons

butter, softened

1 teaspoon

vanilla extract

1 1/2 cups

powdered sugar

1

–

2

tablespoons milk (if needed)
---
Heat the milk and butter.

Combine milk and butter in a

microwave-safe bowl

. Microwave* on high for 1 minute, then remove and stir. Continue heating in 20 second intervals, pausing after each to stir, until the butter is melted and the milk is warm to the touch but not hot. (It should be around 110°F — I recommend measuring the temperature with a

cooking thermometer

.) If the mixture is too hot, just wait a few minutes for it to cool.

Combine dry ingredients.

In a separate bowl, whisk together flour, granulated sugar and salt until combined.

Mix the dough.

In the bowl of a

stand mixer

fitted with the dough-hook attachment (or see note below to mix the dough by hand), add the warm milk mixture and sprinkle the yeast on top, then give the mixture a brief stir.  Add the flour mixture and egg, and beat on medium-low speed until combined. If the dough is sticking to the sides of the bowl, add more flour (up to an additional 1/2 cup), until the dough begins to form a ball and pulls away from the sides of the bowl.  (Use no more than 3 1/2 cups of flour total.) Continue beating for 5 minutes on medium-low speed. Remove dough and form it into a ball with your hands. Place it in a greased bowl and cover with a damp towel. Let the bowl rest for 10 minutes.

Mix the cinnamon-sugar filling.

While the dough rests, make your filling by whisking together the granulated sugar, brown sugar and ground cinnamon together in a small mixing bowl until combined.

Roll out the dough.

Once the dough is ready, turn it out onto a floured work surface. Use a floured

rolling pin

to roll the dough out into a large rectangle, about 12 x 18 inches in size. Use a knife or an

offset spatula

to spread 1/4 cup of softened butter out evenly over the entire surface of the dough. Then sprinkle the dough evenly* with the cinnamon and sugar filling, and gently press it into the dough.

Wrap the giant cinnamon roll.

Use a pizza cutter (or a knife) to slice the dough into six 2 x 18-inch strips. Gently roll up the first strip and place it in the center of a greased 9-inch cast-iron pan or pie plate.* Matching up the ends, add the second strip of dough and loosely wrap it around the first to create one large cinnamon roll. Repeat with the remaining strips, transferring the cinnamon roll to the pan once it gets too large to handle, and then finish wrapping the final strips in the pan. (See video for a demonstration. Also, don't worry if some of the cinnamon sugar filling spills out.)

Let the dough rise.

Cover the dish with a damp towel, and leave it in a warm place to rise for 25 minutes. Heat the oven to 350°F.

Make the icing.

While the dough is rising, whisk together the cream cheese icing ingredients in a mixing bowl until smooth. If it seems too thick, add in an extra tablespoon of milk at a time until it reaches your desired consistency. If it is too thin, add in extra powdered sugar.

Bake.

Once the cinnamon roll has risen, uncover the dish. Place on the center rack of the oven and bake for 15-20 minutes, or until the cinnamon roll is golden and cooked through. Remove and let cool on a wire rack for at least 5-10 minutes.

Frost.

Spread your desired amount of icing evenly over the top of the cinnamon roll. Slice it into wedges and serve warm, drizzled with extra icing if desired.
---
Notes
Stovetop option: If you do not have a microwave, you can just heat the mixture on the stove over medium heat in a small saucepan.
Kneading the dough by hand: Alternately, you can stir the ingredients together in a large mixing bowl.  Then turn the dough out onto a floured surface and knead by hand for 5 minutes until smooth.
Skillet/baking dish: You are welcome to use any oven-safe skillet or baking dish that you prefer here. The recipe is designed to fit well in a 9-inch round pan, but it should also work just fine in a slightly larger or smaller pan too.
[ad_2]

Source link