Easter Dirt Cake Recipe (+VIDEO)
3 min read
Easter Oreo Dirt Cake is a creamy and delicious Easter dessert filled with Oreos, pudding, and cool whip. Everyone will love to decorate and eat it!
We love this holiday version of our Oreo Dirt Cake! For more Easter desserts, try Carrot Cake Cookies or Easter Basket Cookie Cups.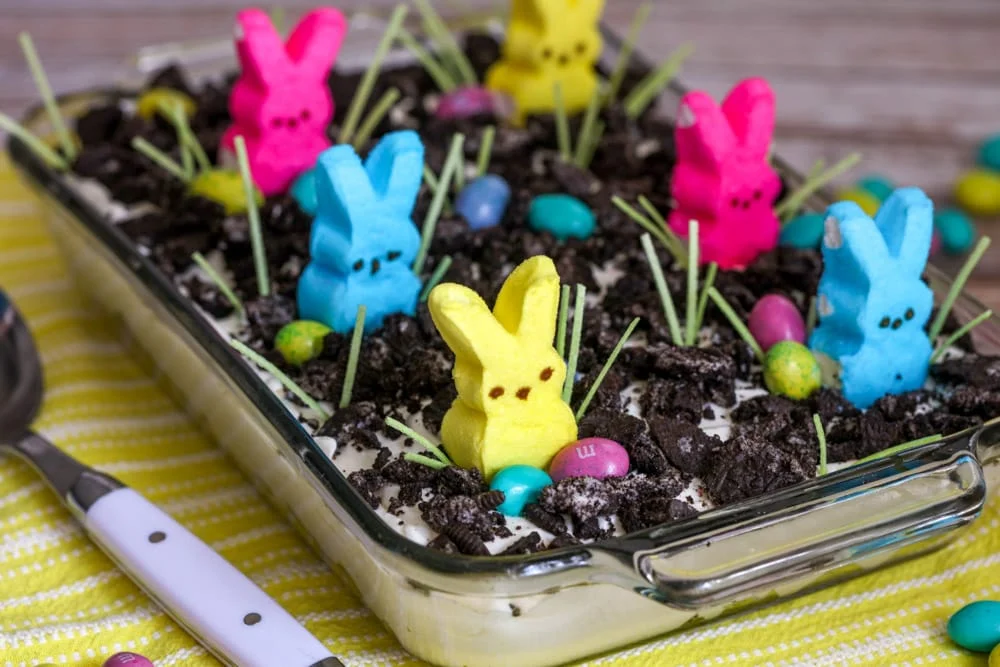 Favorite Easter Dessert
Easter is one of our favorite holidays to gather with friends and family and to have some of our favorite recipes. From deviled eggs to carrot cake, there are so many foods that we make for our Easter celebrations.
One of our favorite Easter desserts is today's Easter Dirt Cake, which is a holiday version of our classic Oreo Dirt Cake recipe.
Using a few of our favorite holiday candies, we've made a few additions to this yummy dessert to make it an easy and delicious treat to make for Easter.
If you like PEEPS and OREOS, then you'll love this. It's really easy and of course the kids go nuts for it!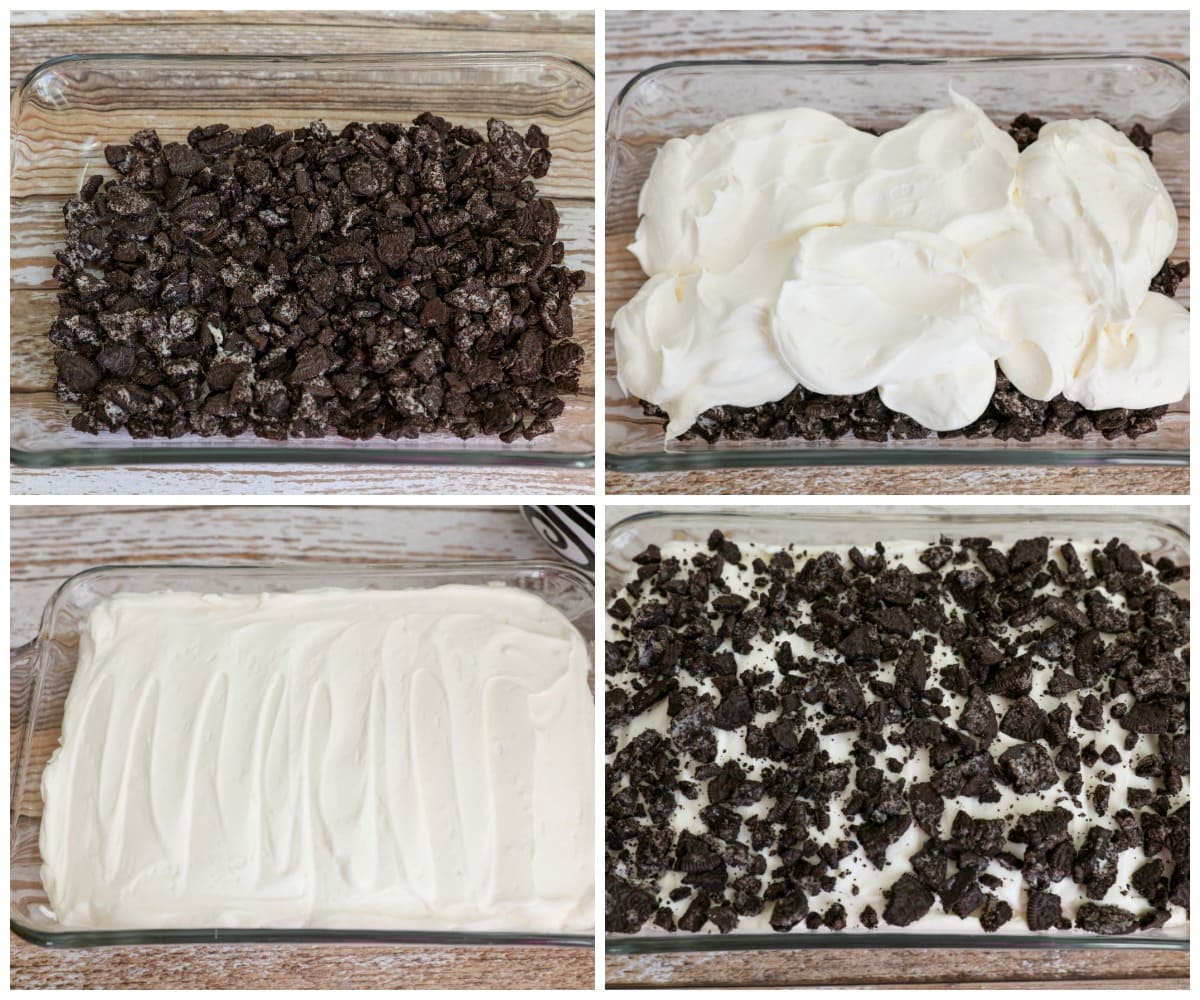 How to make Easter Dirt Cake
This cake only takes about 15 minutes to make. It does need to set up in the fridge for a few hours, but it takes little work and the result is amazing.
CREAM. Begin by making your creamy, pudding mixture. To make this, cream your cream cheese and butter until smooth. Mix in the powdered sugar with a hand mixer and fold in whipped topping. Set this aside.
PUDDING. In another bowl, make pudding by mixing milk, pudding and vanilla. Let this set up for a few minutes and then pour into the cream cheese mixture. Use your hand mixer to mix well. Set aside.
OREOS. Then, crush all the Oreos by putting them in a food processor or Ziploc bag and crushing with hands or the bottom of a cup. Pour about 2/3 of the Oreos into the bottom of a 9×13 pan.
LAYER. Pour the cream cheese/pudding mixture over the Oreos. Then top with remaining crushed Oreos. Place in fridge and let set for a few hours before serving.
Top with the following candies right before serving:
PEEPS
Edible Grass
M&Ms (your favorite variety)
So cute and so delicious!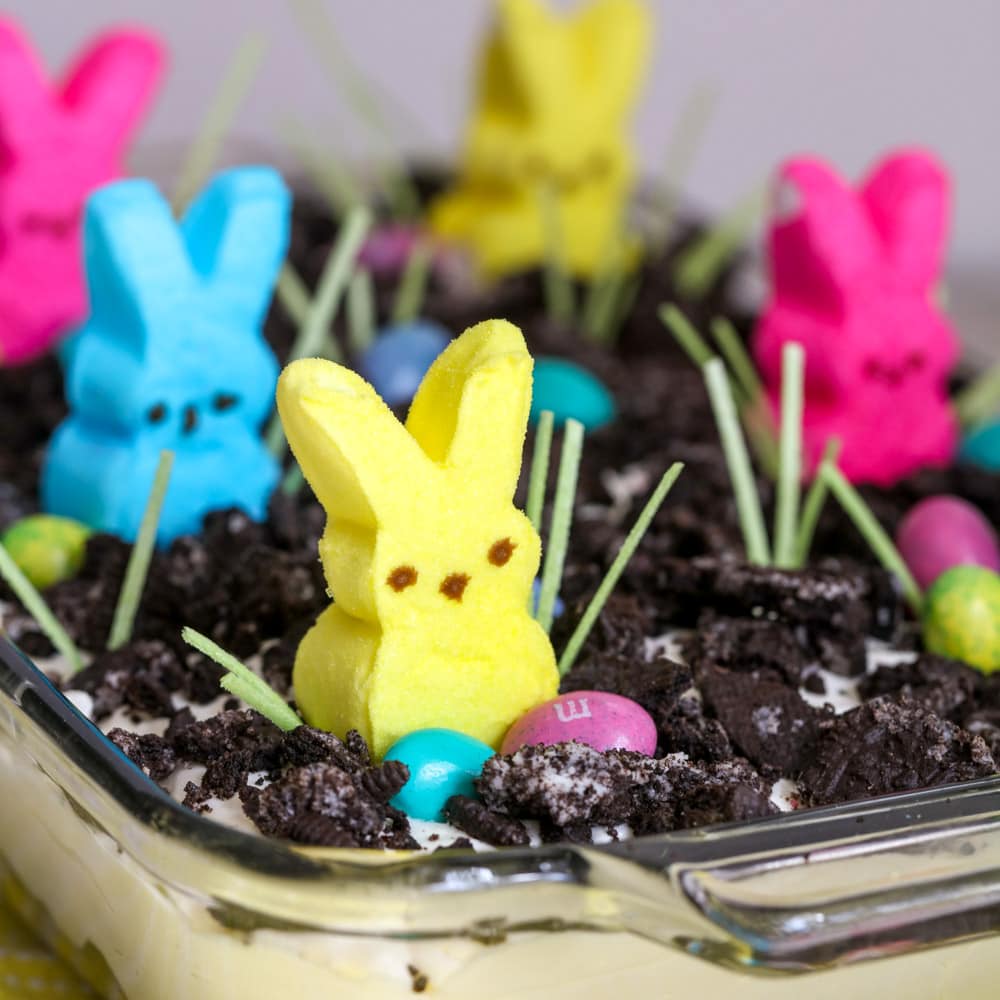 Variations and Storing
Pudding: This cake can also be made using chocolate pudding if you are going for a more dirt-looking cake. You can also change it up based on the OREOS you use.
Oreos: There are always new Oreo varieties that come out during the holiday and you can change the flavor up just a bit based on which cookies you use.
Candies: You can also change out the candies, or can even add Carrot Strawberries on top instead of Easter candy.
STORING. Dirt Cake is best stored when covered tightly with Saran Wrap or foil and placed in the fridge for up to 3 days – you may need to remove some candies to do this. We love to have this cake for leftovers, but admit we rarely have any. 😉
We hope you enjoy this simple and tasty Easter treat. It's one even the kids can help together and a treat everyone will love!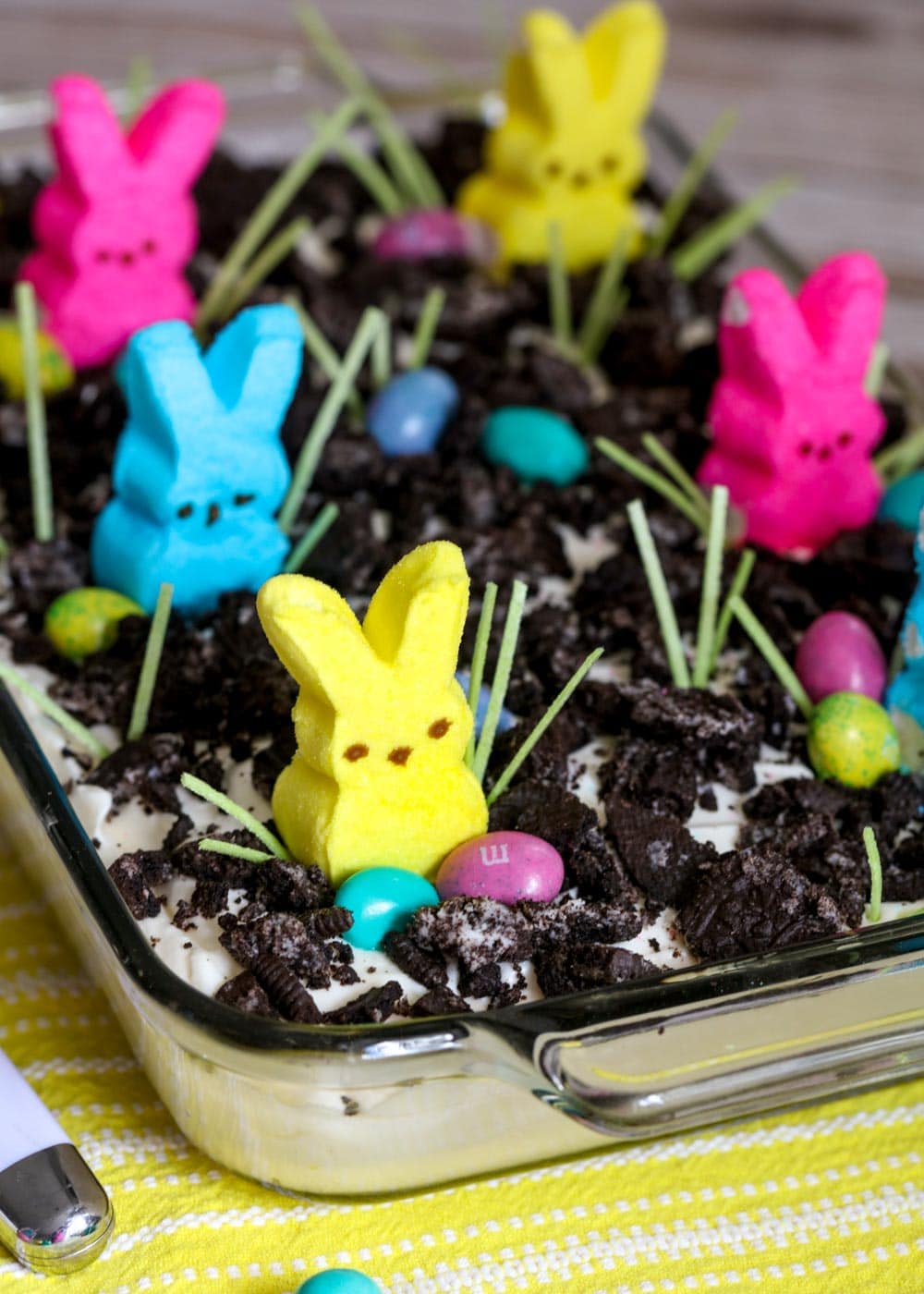 For more Easter treats, check out:
Crush ⅔ package of Oreos and place in the bottom of a 9×13 pan. Set aside.

Mix cream cheese and margarine (or butter) until smooth. Mix in powdered sugar and fold in whipped topping. Set aside.


In a separate bowl mix pudding, milk and vanilla. Fold this mixture in with the cream cheese mixture.

Pour over crumb mixture.

Sprinkle with the reserve crushed Oreos. Let set for a few hours and keep refrigerated until ready to serve.

Right before serving, top with bunny Peeps, edible grass and Candy Easter Eggs.