Dressed Up Avocados – Our Best Bites
5 min read
[ad_1]

Avocados take center stage in this easy dish. Simply dressed in fresh lemon juice and extra virgin olive oil, they get an extra punch of flavor from kosher salt and fresh black pepper and some chopped herbs and diced tomato.  This dish was originally served to me at a 5-star brunch buffet at a beautiful lakeside resort in Austria and I found myself reaching for it every day!  I'm calling them dressed up avocados because they were so simple, yet paired so perfectly with everything from meats to eggs to baguette slices and toast.  They come together very quickly and look gorgeous on the table.  It's a great side dish that pairs well with salads, grilled meats, or a sandwich bar from breakfast to dinner.  You could easily give it a Latin twist and make it deconstructed guacamole by subbing limes for lemons and cilantro for chives!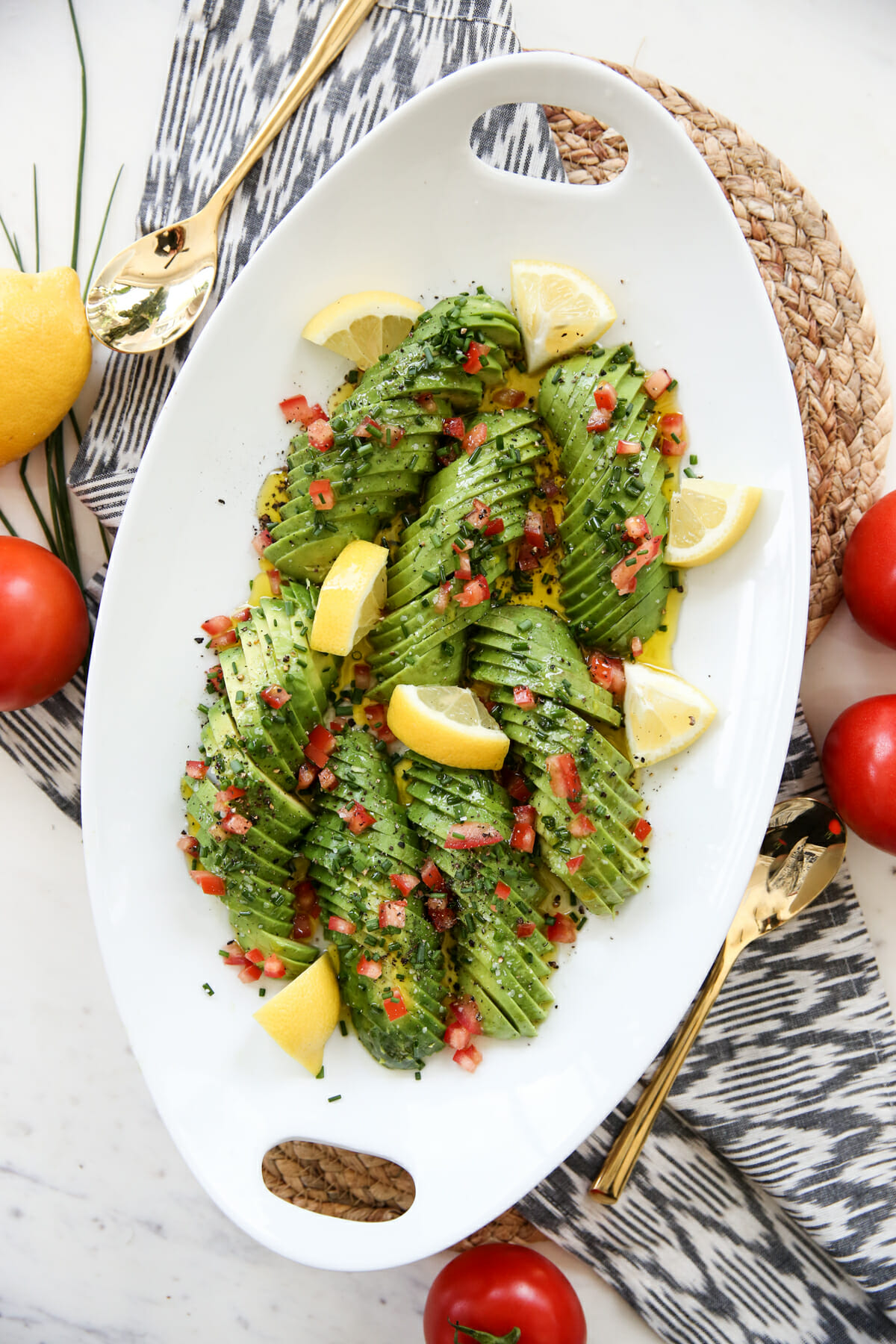 Ingredient Notes
Avocados – You'll want to aim for the avocado lottery, ripe but not too soft so they slice well. This is a great dish to make when you have a lot of avocados ripe at once.
Olive Oil – Use a good extra virgin olive oil, or you could use a "light" olive oil if you prefer a lighter olive flavor.  Flavored olive oils like garlic or lemon would also be delicious.
Lemon Juice – Use fresh lemon here, not juice purchased in a bottle, which can be quite bitter.
Salt and Pepper –  I would avoid table salt.  Use kosher salt or a flaky sea salt would work well.  The larger salt crystals are a nice contrast to the creamy avocado.  Fresh cracked black pepper is great, but any pepper will work!
Tomato –  Tomato is almost more of a garnish here.  If you don't have one, don't sweat it!  It looks extra beautiful with the pops of red on the plate and does make it look more like a completed dish but you can skip it if you prefer.  Any type of tomato works just fine.
Chives –  Mild chives work really well here and add a soft, but flavorful component.  If you didn't have chives, you could substitute another soft-leaf herb with a different flavor profile like flat-leaf parsley or tarragon.
How to Prepare Avocados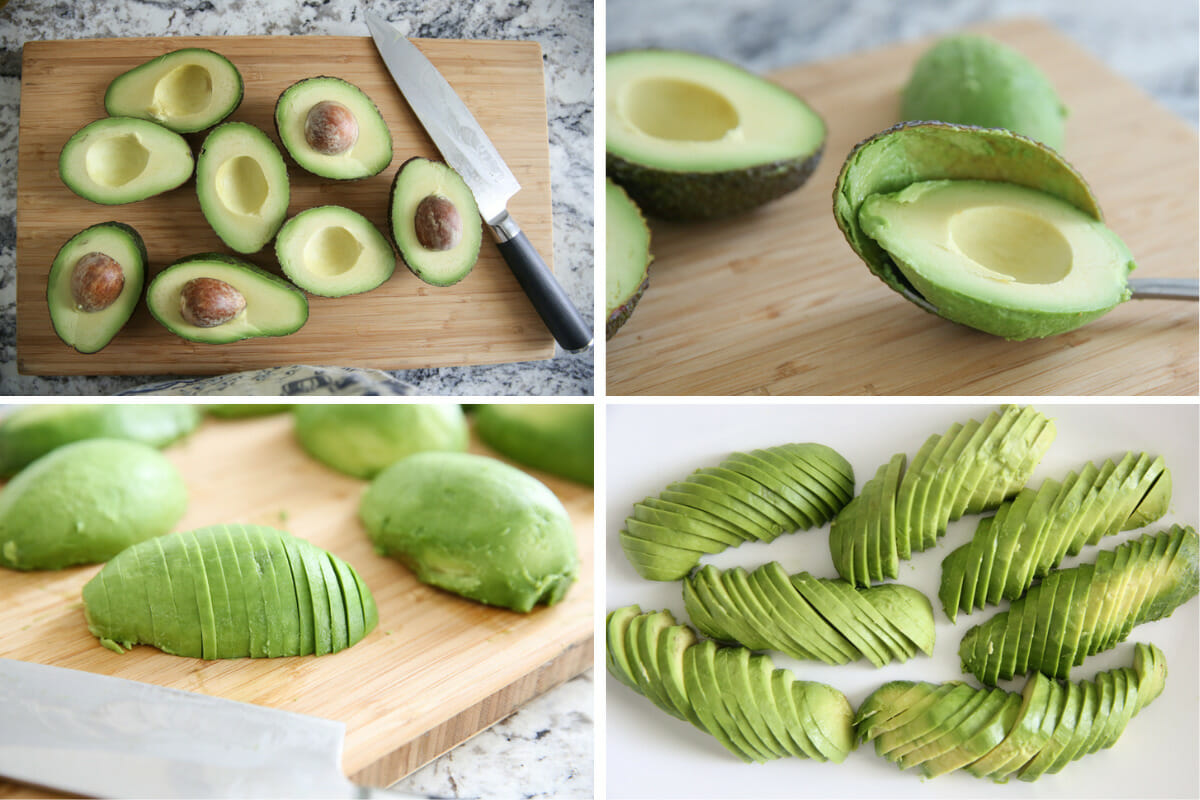 Cut each avocado in half and remove pits.
Using a spoon, carefully scoop out each avocado, keeping halves in tact.
Place avocados center-side down on a cutting board and use a large knife to slice thinly into 1/4-1/8″ slices.
Carefully use your knife like a spatula to transfer avocados to serving dish, spreading them out accordion style.
How to Dress Avocados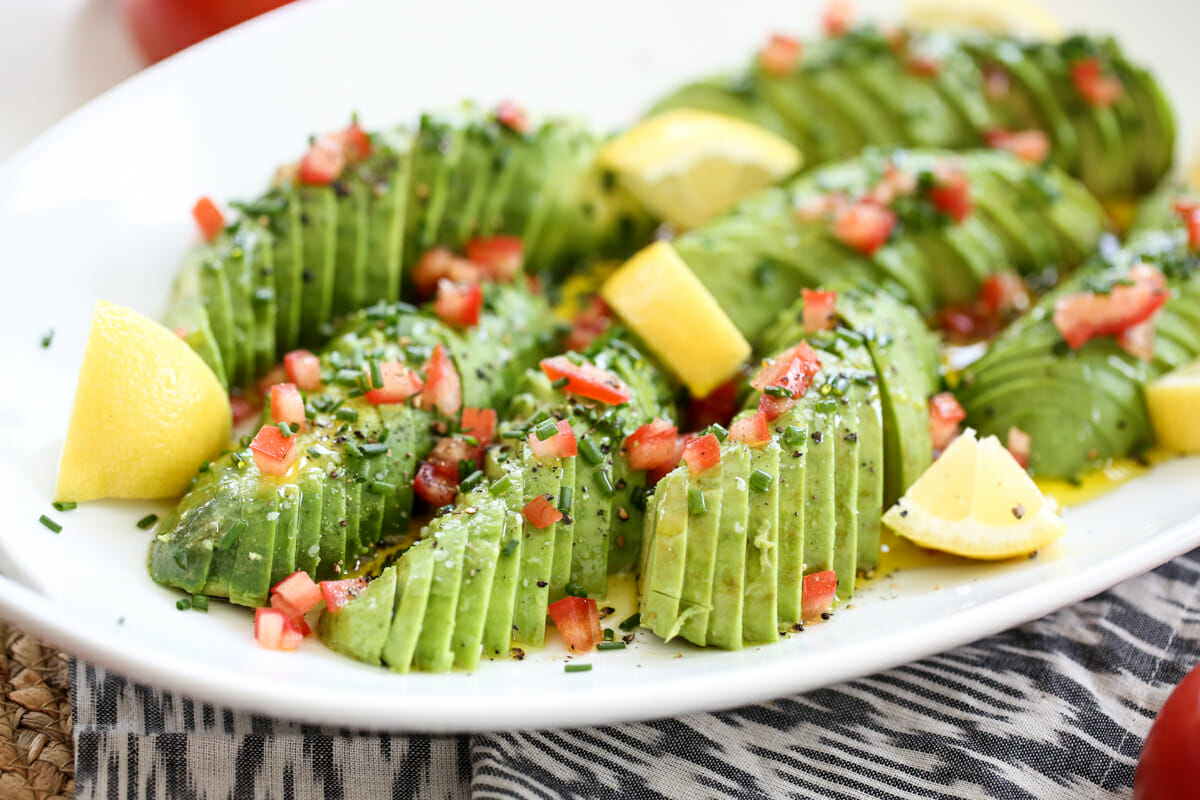 Drizzle avocado slices with olive oil and squeeze fresh lemon juice directly over slices.  TIP: Squeeze lemon halves over the open palm of your other hand, letting juice fall through fingers onto food, but catching seeds.
Sprinkle with salt and pepper
Top with minced chives and finely chopped tomatoes. Garnish with extra lemon wedges.
Serving Suggestions
We don't always think of avocados as a side dish, but this dressed up version is a great way to serve them as one! These are great with breakfast, brunch or dinner.  Here's a few things I would put on the table along side these avocados:
Large Batch Breakfast Sandwiches
Breakfast Taquitos
Grilled Chicken and Veggie Skewers
Greek Inspired Steak and Rice Bowls
Southwest Pasta Salad
Layered Fresh Caprese Salad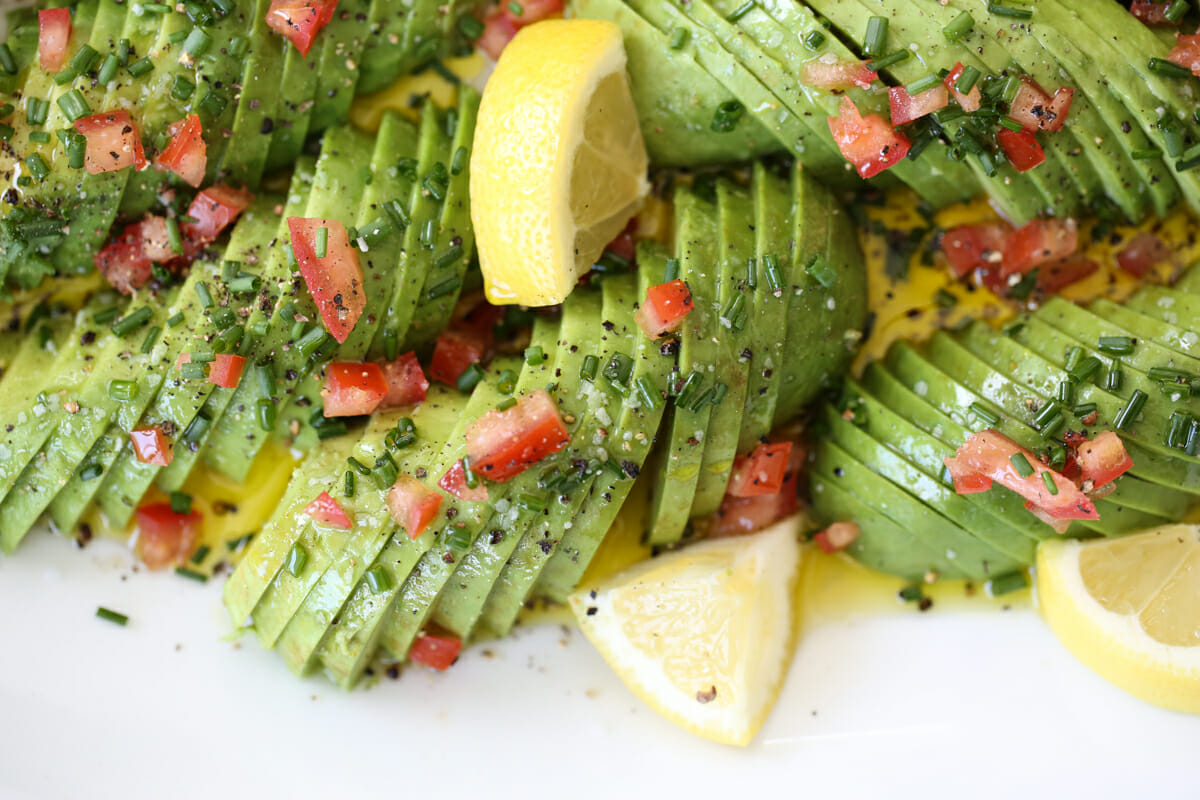 FAQs
Can this be made ahead of time? The lemon juice definitely helps the avocados keep from browning, but over time that will still happen, plus the olive oil and juice will really sink to the bottom of the plate.  I think this dish is really best assembled within about 30 minutes of being served.
How do you store the leftovers?  At our house, if there are leftovers, I usually just mash it all up together like guacamole!  It makes a great dip or spread and we usually end up eating it within a day (or sometimes later that night) with veggie sticks, pita/tortilla chips, or avocado toast.  You can help prevent browning by storing in an airtight container and placing a piece of plastic wrap directly on top of the avocados before placing the lid on.
If you try these amazing (and gorgeous) avocados I'd love it if you snapped a picture and tagged me on instagram, and also came back and gave this recipe a rating!
Print
---
Description
These thinly sliced avocados are simply dressed and quick and easy to pull together.  They're a perfect side dish for breakfast, brunch, or dinner!  NOTE: Quantities are very adjustable, this recipe is easy to eyeball and doesn't need to be exact.  For serving size, imagine how much avocado one single person might eat.  For example, if you have small avocados I would maybe estimate 1/2 avocado per person and for large/XL avocados with a lot of other food on the table you might be able to serve 3-4 per avocado.
---
2–3 large avocados
1–2 lemons
extra virgin olive oil
kosher or sea salt
black pepper
1 handful fresh chives
1 medium tomato
---
Cut each avocado in half and remove pits.
Using a large spoon, carefully scoop out entire avocado half, keeping it in tact.
Place center/pit-side down on a cutting board and use a large knife to slice into 1/8-1/4″ slices. Carefully using knife, transfer sliced avocado to a serving plate or platter and use your hands to gently fan out the avocados accordion style. Repeat until all avocados are arranged on platter.
Cut tomato in half and remove seeds, pulp and inner membrane.  Dice tomato in extra small pieces and set aside.
Use clean scissors to snip chives into small pieces until you have about 2 tablespoons or enough for your liking.
Drizzle some olive oil over each avocado half, followed by a squeeze of lemon juice.  Tip:  Squeeze lemon over open palm of opposite hand, letting juice run through and using fingers to catch loose seeds.
Sprinkle with salt and pepper, chives, and tomatoes.
Lastly, cut up some remaining lemon into slices or wedges and add to plate.
---
Keywords: Avocados, Side Dishes, Vegetables


[ad_2]

Source link