Beef Negimaki Recipe (Restaurant style!)
5 min read
[ad_1]

This beef negimaki recipe makes a fabulous dinner or appetizer that comes together in no time! Made with simple ingredients, it tastes like something you'd get at a Japanese restaurant.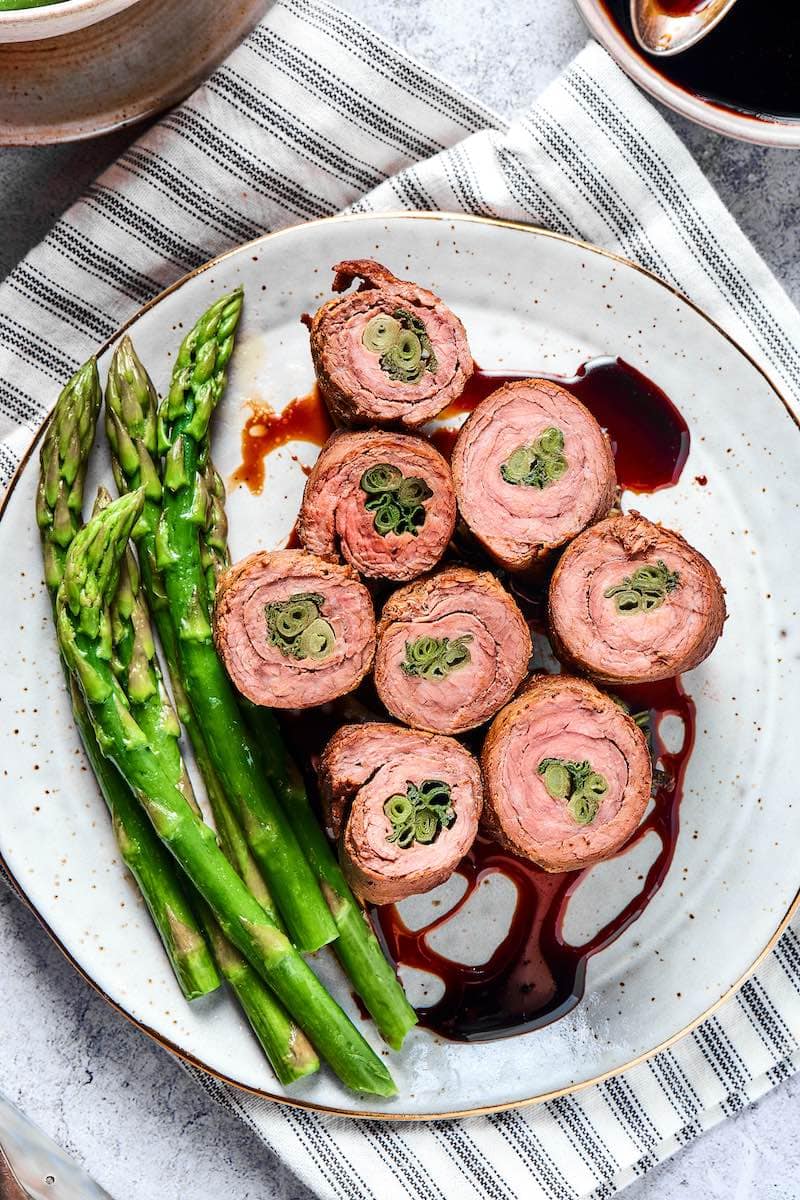 Confession- Japanese food is far superior to any other cuisine.
Our family are huge fans of Japanese cuisine so much so, most of us have taken Japanese cooking classes to learn some of our favorite dishes. 
These include a kani salad or gyoza, and our recent obsession, beef negimaki.
What is beef negimaki?
If you prefer thinner cuts of beef, negimaki is the dish for you. Often referred to as Negima Yaki, it is a Japanese appetizer involving thin strips of beef rolled around either asparagus or scallions. It's grilled or pan fried then covered in a sweet and salty sauce that is seriously addictive. 
In our home, we actually like to enjoy it as a main dish, serving it with a simple spinach salad or over a bed of cauliflower mashed potatoes (to soak up all those delicious juices!). 
This dish tastes like seared steak minus all the chewy bits and hits all the flavors- salty, spicy, umami, and a little sweet.
It's such an elegant dish that looks far too fancy to be simple, but it really is! The entire dish comes together in under 20 minutes and you'll feel like you're eating at an actual Japanese restaurant- it is that good!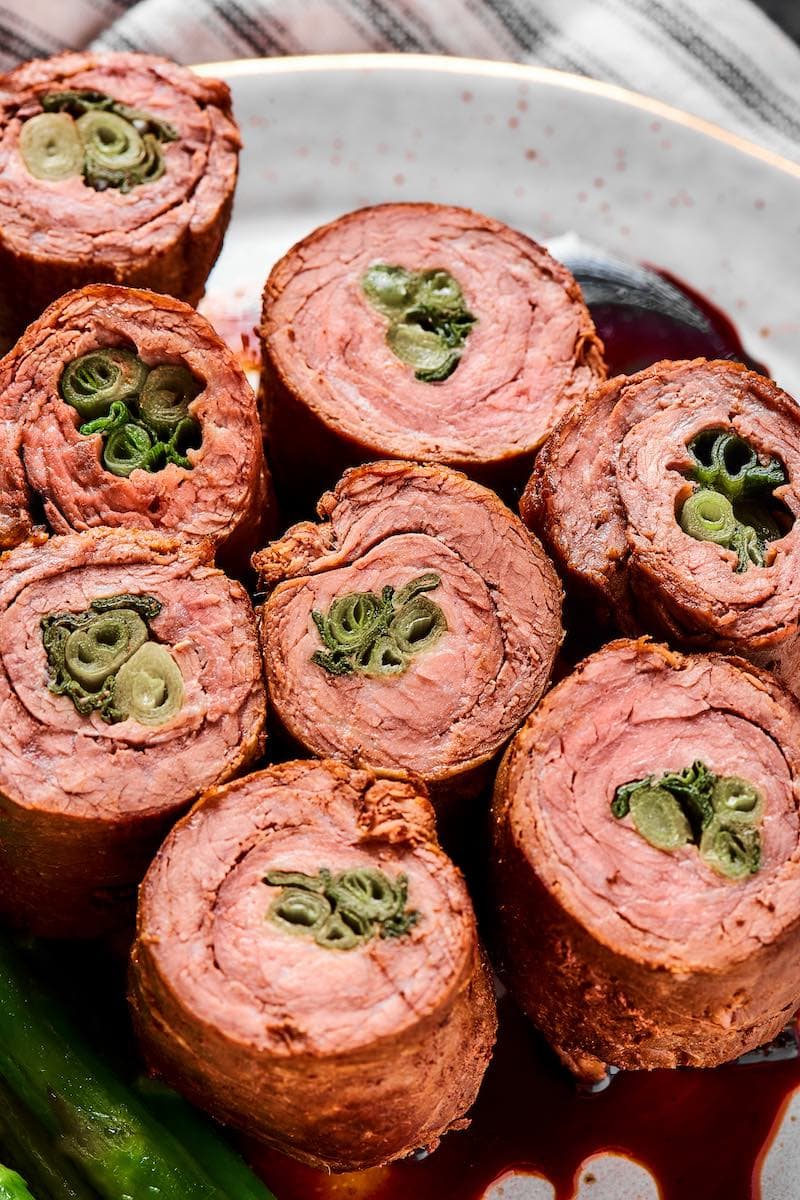 Ingredients needed
Flank steak. The best steak to use for negimaki, as they can be pounded very thin and keep plenty of flavor. 
Scallions OR asparagus. I prefer using scallions, but asparagus can also work. 
Sake. A Japanese alcohol that is often used in marinating meat to tenderize it. 
Mirin. A Japanese cooking wine similar to dry sherry. 
Soy sauce. Tamari also works. 
Sugar. Just a pinch to balance out all the umami flavors. 
Oil. To pan fry everything. 
How to make beef negimaki
Negimaki is simple to make: the only thing to remember is to cut the steak across the grain and pound it as thinly as possible. Here is the basic idea of how to make negimaki (or see the recipe below for specifics): 
Blanch: Add the scallions into a pot of boiling water form 30-40 seconds, then immediately transfer into a bowl of iced water. 
Pound: Cut the steak against the grain into scant 1/4-inch slices. Pound the slices of steak until they are around 1/8-inch slices. 
Assemble: Sprinkle a little salt on top of the beef and add 3-4 scallions to the center of each one. Tightly roll up each one and use a toothpick to hold it into place. Transfer the rolled beef into a shallow container or dish. 
Marinate: In a small bowl, whisk together the sake, mirin and soy sauce. Drizzle it over the rolled beef and turn around each side so the sauce touches all surfaces. 
Cook: Add oil to a non-stick pan and place it over medium heat. Once hot, add the rolled beef portions in it and cook all sides, until no longer pink around the sides. 
Dress and serve: Drizzle remaining sauce over the top and serve immediately.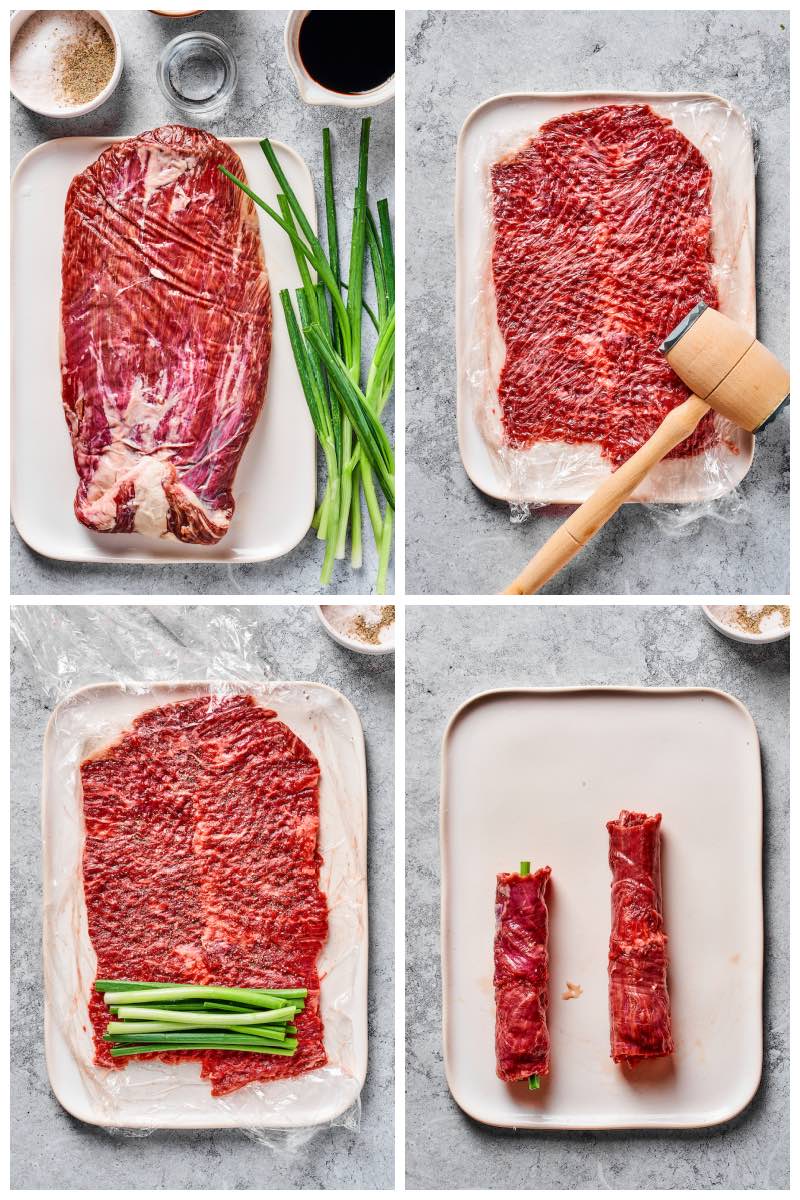 Tips to make the best recipe
The thinner you pound the steak, the better the rolls will be. The more you can roll the steak up, the more of the marinade the steak will absorb. This will yield more flavorful negimaki. 
Coat all sides of the meat with marinade. Leaving one side of the negimaki unseasoned will overcook that side. 
Rare is best. This is the beef or steak-based dish where the rarer the meat is, the more melt in your mouth it will be. 
Sprinkle with sesame seeds. Like any good Japanese appetizer, sprinkle with black or white sesame seeds (or a sprinkle of sesame oil). 
Sake substitutions
There are a few options for sake if you can't tolerate alcohol or don't have any on hand. Here they are:
Cooking sherry
Rice wine vinegar
Dry vermouth
Storage instructions
Wondering what is the best way to store beef negimaki? Here are the tested ways to do to so:
To store: Leftovers can be stored in the refrigerator, covered, for up to three days. 
To freeze: Place the cooked and cooled negimaki in an airtight container and store it in the freezer for up to two months. 
Reheating: Microwave or reheat on a non-stick pan.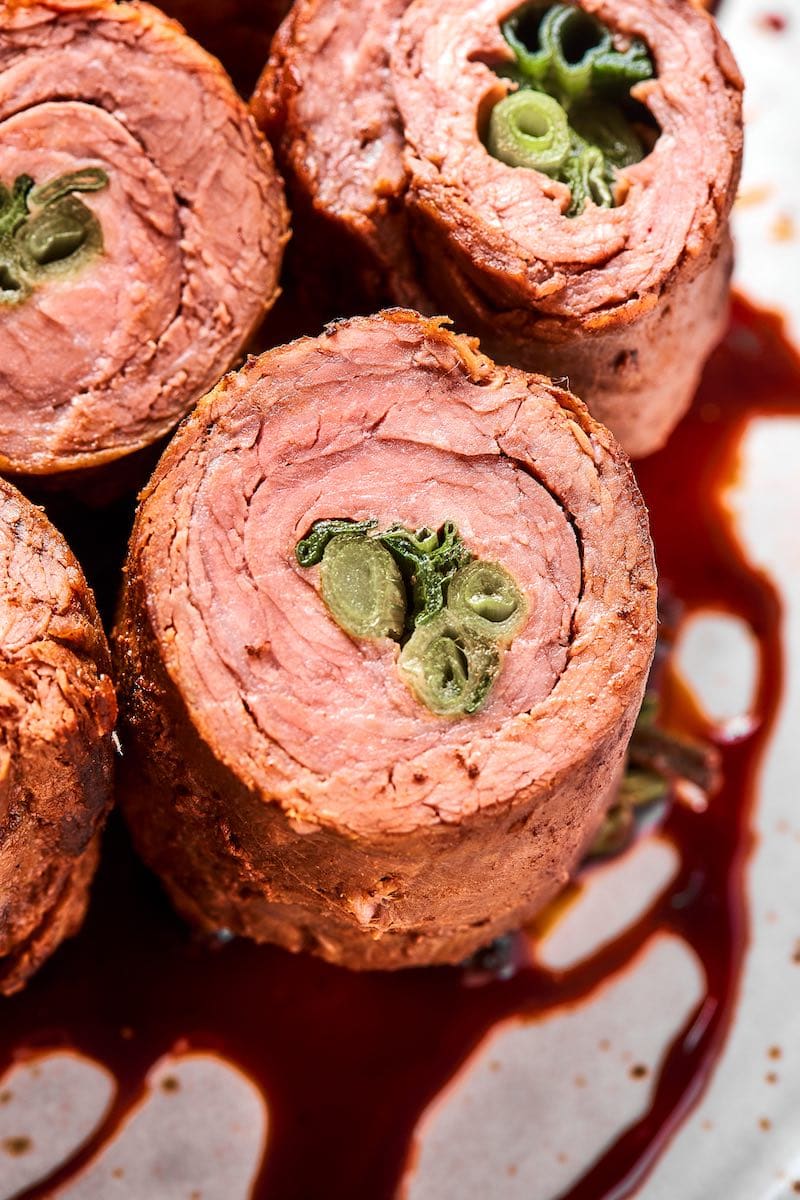 More beef recipes to try
Frequently Asked Questions
How many calories does beef Negamaki have?
There are just 97 calories per serving.
Can I use other cuts of beef?
While flank steak is preferred, skirt steak or sirloin steak will also work.
Can I use other vegetables in the middle?
Carrots, broccoli, and English spinach are all fantastic filling ideas.
Is Negima Yaki the same as beef negamaki?
Negima Yaki is the formal name for beef negamaki. It is sometimes just called Negima.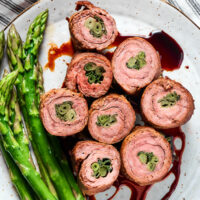 2

lb

flank steak

24

small

scallions

trimmed

1/3

cup

soy sauce

1/2

cup

mirin

1/2

cup

sake

2

tablespoon

sugar
Bring a pot of water to a boil. Once boiling, add the scallions to it and blanch for 30-45 seconds. Remove from the water and place in a bowl of iced water.

Slice the steak into thin strips, around 1/4-inch in thickness, to leave 12 squares of steak.

Place the steak between plastic wrap and pound the pieces until 1/8-inch thickness.

Add 3 scallions to the center of each piece of steak and tightly roll each one up. Use a toothpick to hold them into place. Place the rolls of steak in a shallow container or dish.

Whisk the remaining ingredients together and pour over the steak rolls. Shake the container/dish, ensuring both sides and the exterior of the steak is covered. Let everything sit for 15 minutes.

Add oil to a non-stick grill or skillet and place over medium heat. Once hot, add the beef rolls to it, shaking off excess sauce and sear on all visible sides.

Remove the negimaki off the heat and drizzle with any remaining sauce.
TO STORE: Leftovers can be stored in the refrigerator, covered, for up to three days. 
TO FREEZE: Place the cooked and cooled negimaki in an airtight container and store it in the freezer for up to two months. 
REHEATING: Microwave or reheat on a non-stick pan. 
Serving: 1Negimaki | Calories: 97kcal | Carbohydrates: 6g | Protein: 17g | Fat: 4g | Sodium: 477mg | Potassium: 302mg | Fiber: 1g | Vitamin A: 100IU | Vitamin C: 2mg | Calcium: 25mg | Iron: 1mg | NET CARBS: 5g
[ad_2]

Source link